Top 5 Tokens That May Disrupt the Market in 2022 – Bitcoinist
Altcoin season is in full swing: cryptocurrencies of tech companies are breaking price records and skyrocketing to peak levels within hours. Over the past week, DOT (Polkadot) and 1İNCH tokens have reached historical maximum together with the SAND game token with its almost doubled price. The market is preparing for a new wave of institutional and retail investments that will support altcoin companies in GameFi, FinTech and data protection sectors. We have collected the most promising tokens that could turn the market around in the next 12 months.
The token of Axie İnfinity blockchain game has long been catching users. Based on Pokemon cartoon anime, the Play-2-Earn-style game has already acquired an army of players from all over the world and its native AXC token is setting new price records. In early November the coin was traded around $142, but in the next 24 hours, it rolled back.
However, experts are confident that in the next few months AXC token will be able to return to $145 and above, as the heyday of the GameFi segment will be in 2022. Therefore, investors should stock up with tokens of game projects now, as well as pay attention to native NFT, which will also grow in price.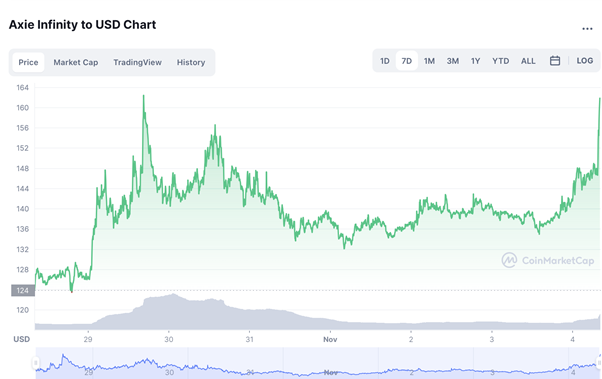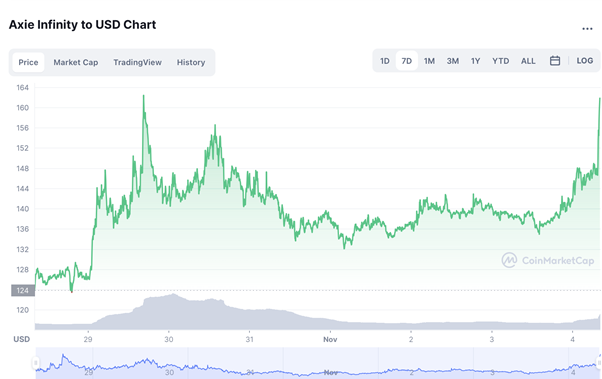 Source: CoinMarketCap
That is another token from the world of GameFi segment that may become a real breakthrough of the year. Holding True Group (a large iGaming developer) has allocated TFL in a separate area. As part of it, Play-2-Earn activities and the NFT marketplace will be launched. The team is also working on its own gaming metaverse and crypto wallet for the gaming industry.
The company has a huge experience in iGaming, as confirmed by several awards in the gaming industry. The updated site with new tokenomics will be initiated in November this year. That's why investors and users are following TFL news and awaiting the official announcement. Only on expectations, the token cost increased several times in less than a month.


Source: CoinMarketCap
A promising and quite well-known project offers simple and affordable solutions to use cryptocurrency for smartphone owners. The ecosystem functionality makes crypto payments instant and barrier-free by using phone numbers as public keys. In fact, users will be able to transfer cryptocurrencies from wallet to wallet using their own smartphones.
Native CELO token, tailored to PoS algorithm, is used as an internal payment to pay transaction fees and platform services. Also, the company plans to release several proper stablecoins. According to developers, the Celo ecosystem will be especially important in countries with an underdeveloped banking system. Residents of such countries will use CELO as a payment instrument for international transactions and earn coins from staking.


Source: CoinMarketCap

One of the most promising projects in Avalanche blockchain technologies has a token that is trying to solve the problem of network scalability and lower gas payments. The company has already developed three blockchains to exchange AVAX tokens for other cryptocurrencies with nearly no commission. The company intends to develop and implement algorithms in the future that will scale existing blockchains endlessly.
As for the AVAX token, it is used primarily as a payment instrument within the platform to pay commissions and fees. Due to the company's ambitious plans, investors are buying up tokens massively now in contemplation of a speedy rise in prices. If Avalanche is able to realize all the plans, then the coin value would grow several times next year.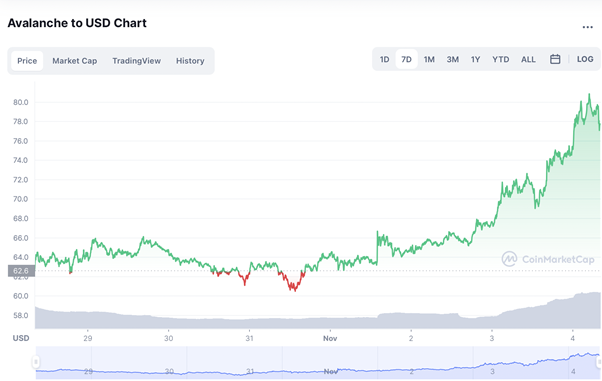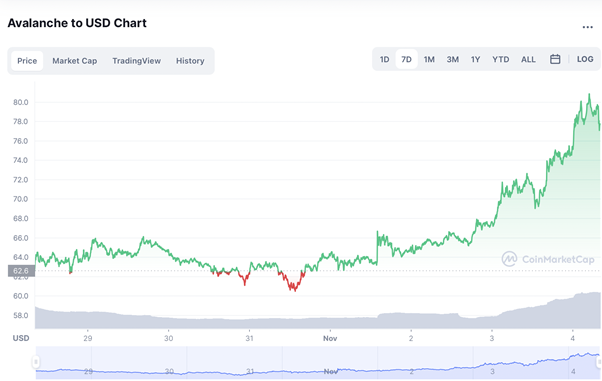 Source: CoinMarketCap
Among the top five most promising tokens is SAND token, issued by Sandbox company. SAND token is used as payment within the metaverse of the same name, where users can buy land, build houses, open their own virtual stores, schools and receive real cryptocurrency.
In the last days of October and early November, the value of SAND token increased by 10%. The likely reason for the growth was Mark Zuckerberg's announcement of Facebook rebranding and renaming it to Meta, implying a new metaverse creation. Experts predict the popularization of metaverse next year, so the token has a good chance of a rise in price.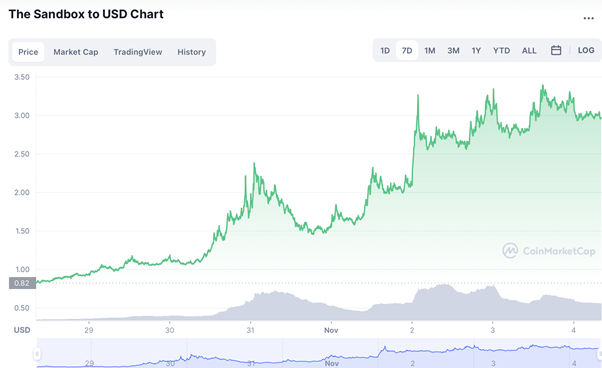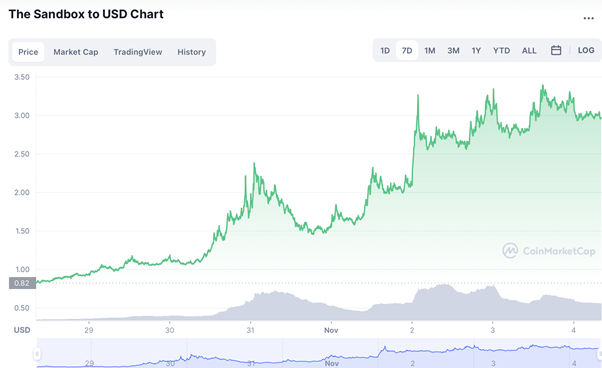 The next year of 2022 will be a period of GameFi sector's rapid development and will be marked as a creation of many metaverses that will gradually integrate into the real world. Such project tokens will grow rapidly in value, bringing good dividends to their holders. Hence, many investors are buying up GameFi project coins in anticipation of explosive growth now.

For updates and exclusive offers enter your email.
Bitcoinist is the ultimate news and review site for the crypto currency community!
Bitcoin news portal providing breaking news, guides, price analysis about decentralized digital money & blockchain technology.
© 2021 Bitcoinist. All Rights Reserved.
Metaverse Crypto Index Fund Launched by Matthew Ball, Multicoin, and Bitwise – Decrypt
Search
There's a wide array of crypto builders working to bring the metaverse to life, whether it's via platforms, tools, assets, or infrastructure. Now one of the leading voices around the metaverse has launched an index fund focused on crypto assets tied to the next-generation internet.
Today, writer and venture capitalist Matthew Ball announced a partnership with Multicoin Capital and Bitwise Asset Management to launch the Ball Multicoin Bitwise Metaverse Index. Bitwise has also made an associated fund available to qualified purchasers.
"We developed the Ball Multicoin Bitwise Metaverse Index Fund because, prior to today, there was no easy, expert, and methodologically diversified way for investors to have broad-based exposure to bona fide metaverse-focused crypto assets," Ball told Decrypt.
"To this end, the Index doesn't exist to time Event A or Market Conditions B. It exists so that investors can participate in what we believe is a multi-trillion dollar transformation, which will unfold over the coming decade," he continued. "If blockchain is relevant to the future of the metaverse, and our approach is sound, we believe the opportunity is significant—today, tomorrow, next month, and so forth."
The index will feature up to 40 crypto assets chosen by the partners, but a list of included assets was not provided to Decrypt by the time of publication. Bitwise's associated fund is available to qualified purchasers with a $100,000 minimum investment.
Ball described the Ball Multicoin Bitwise Metaverse Index as a "rules-driven index that combines the best of institutional indexing approaches with special adaptations to the crypto and metaverse spaces. That includes various risk screens, such as analyzing liquidity, developer activity, tech and regulatory risk, and "relevancy to the metaverse," said Ball.
"The ultimate goal is to curate the crypto assets that will be outsized contributors to the creation and success of an open metaverse," he added.
The metaverse refers to a future version of the internet that many believe will be built on blockchain technology. It's expected to be a more immersive and interactive experience that people navigate via 3D avatars and use for work, play, shopping, and socializing. It may also use NFT assets for user-owned items like avatars, apparel, and virtual land.
Ethereum-based games like Decentraland and The Sandbox are seen as early examples of the metaverse.
Facebook also showcased its own vision for the space and even rebranded its parent company to Meta last fall. However, it's not entirely clear whether Facebook's plan is for an open platform that is interoperable with others.
Ball is a leading writer on the metaverse whose work has been published in The New York Times, The Economist, and Bloomberg. His book, "The Metaverse: And How It Will Revolutionize Everything," is due out from W.W. Norton in July.
He's also a managing partner at EpyllionCo, which has invested in crypto startups such as Dapper Labs and Mirror, as well as a venture partner at Makers Fund. Ball is also behind the Roundhill Ball Metaverse ETF, which focuses on metaverse-centric stocks and trades on the New York Stock Exchange.
"Our objective was the creation of a diversified, balanced, and expertly-designed crypto Metaverse Index," explained Multicoin Capital co-founder and managing partner, Kyle Samani.
"This required a similarly capable team," he continued. "Matthew Ball is the definitive thought-leader in metaverse strategy and investing. We specialize in crypto assets and are one of the preeminent crypto investment firms. And Bitwise Asset Management is the proven leader in crypto indexes and index funds."
Meta's losses show the metaverse's costly risk – Insider Intelligence
Facebook parent Meta launches startup accelerator with India's IT ministry in metaverse push – TechCrunch
Meta Platforms is looking at India's burgeoning startup ecosystem as it bolsters its bet on the metaverse. The social juggernaut has partnered with the Indian IT Ministry's startup hub to launch an accelerator in the country to broaden innovation in emerging technologies, including augmented reality and virtual reality, officials said Tuesday.
MeitY Startup Hub and Meta's effort, called XR Startup Program, will work with 40 early-stage startups and help them in research and development and developing workable products and services. Each startup will also receive a grant of over $25,000, the American giant said.
The program, supported by Meta's $50 million XR Programs and Research Fund, will initially hand pick 80 startups to attend a bootcamp. It will also help startups with finding customers, inking relationships and raising funds, Meta said.
Rajeev Chandrasekhar, Minister of State for Electronics & Information Technology and Skill Development and Entrepreneurship, said the program is especially aimed at helping encourage technology innovation in smaller cities and towns.
The XR Startup Program is the latest of Meta's growing participation in the South Asian market's upskilling efforts. The firm, whose Facebook and WhatsApp services identify India as their largest market by users, partnered with Central Board of Secondary Education, a government body that oversees education in private and public schools in the country, to launch a certified curriculum on digital safety and online well-being, and augmented reality for students and educators in the country.
The program — to be implemented by four Indian institutions, including IIT Delhi — will also host a "grand challenge" for innovation in categories including education, healthcare, entertainment, agritech, climate action, sustainability and tourism, the American giant said.
"India will play a pivotal role in defining future technologies. Decisions and investments made here in India now shape global discussions on how technology can deliver more economic opportunity and better outcomes for people. It is critical that we help to create an ecosystem that will enable India's tech startups and innovators to build the foundations of the metaverse," said Joel Kaplan, VP of Global Policy at Meta, in a statement.
Meta's interest with working with startups in India is also not newly found. The company has backed three startups in the country, including social commerce platform Meesho and online education group Unacademy.
3 views: Is the metaverse for work or play?
"India's rapid tech adoption combined with a vast pool of tech talent puts the country in a vantage position for shaping the future of the internet," said Ajit Mohan, VP and MD of Facebook India, in a statement.
"For this future to be equitable, it will require active participation from all stakeholders, including developers, businesses, creators, policymakers, and entrepreneurs. We are excited to collaborate with MeitY Startup Hub and hope that the XR Startup Program will act as a catalyst to unlock the use of immersive technology across sectors like education, healthcare, agritech and tourism, not only in India but across the globe."