14-year-old artist uses NFTs to raise $50K for Alaska beluga conservation – KTOO
KTOO
Science & Tech | Southcentral | Wildlife
November 4, 2021 by Sabine Poux, KDLL – Kenai
Endangered Cook Inlet belugas don't have a lot in common with cryptocurrency, a digital form of money that's becoming increasingly popular around the world.
But a 14-year-old in Puerto Rico is using her digital art, and the online currency, to raise tens of thousands of real-life dollars for beluga conservation in Alaska.
Abigail goes by PeachSunday online and asked us not to use her last name to protect her privacy.
The high school freshman has set records selling her digital illustrations, which she calls "Belugies." Each colorful piece features a beluga with different accessories, from gold chains to sunglasses to astronaut suits.
"And we were thinking if this works we could help them. Because there are only, I think, 279 Cook Inlet belugas right now. And we could really help them out if the NFT works," she said.
It worked. In late October, Abigail flew across the country to hand Girdwood-based Beluga Whale Alliance its largest donation to date — $50,000.
But they're not just illustrations. Abigail's pieces are NFTs, which stands for non-fungible token. "Non-fungible" means unique, because each NFT is a digital file that's entirely original and can only have one owner.
It's a new-ish concept and is complicated by the fact that there's no physical artwork being exchanged. When you buy an NFT, you're buying ownership over a digital file. That way, even if everyone on the internet can see it, you're the only true documented owner. And that ownership in itself is worth something online.
It's actually worth quite a bit. Her brother Adam said his sister's NFTs are selling for big bucks.
"In 10 hours we sold out and we made $1,021,000," he said.
WE DID IT!!!! pic.twitter.com/QWEcRJnzaw
— Belugies (@belugiesNFT) October 17, 2021
If you're wondering why someone would spend thousands on something they can't even hold, you're not alone.
Abigail herself couldn't believe it when her NFTs sold out. One of them, a beluga in an orca whale suit, sold for over $10,000.
NFT advocates say people are excited about the prospect of ownership and collecting. Earlier this year, an NFT sold at Christie's auction house for $69 million.
Abigail thinks people are drawn to the charity aspect of her NFTs, and creating a tangible impact out of something otherwise intangible.
The young artist only started making digital art less than a year ago. Adam was the one who told her about NFTs and she decided to try her hand.
She wanted to draw an animal that would make a cute character. So, she picked belugas.
"Because belugas are super cute, smart, and we loved them ever since the Georgia aquarium that we went to in 2018," she said.
She also wanted to send a cut of her potential proceeds to beluga-focused organizations.
Arrived to Alaska & found some fellow Belugies waiting for us in the airport 👀🐳 pic.twitter.com/9YwgfGkecy
— Belugies (@belugiesNFT) October 24, 2021
That's how she found Beluga Whale Alliance online and connected with Suzanne Steinert, its founder and president. Steinert started Beluga Whale Alliance in 2017.
"This is our biggest donation to date and it's really going to help us get to that next level," Steinert said. "We've been operating at a pretty grassroots level but this will really help contribute to the sustainability of our baseline operations funding and also scale up our operations, too, to have more of an impact."
The nonprofit works on conservation efforts for Cook Inlet's endangered belugas. It's part of the Beluga Monitoring Partnership, which enlists Alaskans to count belugas on the shores of Cook Inlet to help researchers understand why the population isn't rebounding.
Abigail and Adam did some of their own beluga observing when they visited Alaska and hand-delivered their donation.
"It inspired so many ideas. We haven't stopped thinking and collaborating. Our community wants to see stuff that's tangible," Abigail said. "Like what does that money go toward? What does it actually help out with?"
Abigail donated another $50,000 to Ocean Defenders Alliance, a California-based organization. An additional $100,000 went to a nonprofit for kids with cancer.
NFTs are still a new technology, and they've come under fire for being bad for the environment. That's because the online currency that's used to buy and sell NFTs, called cryptocurrency, has an enormous carbon footprint, due to the computers used to back it.
Abigail and Adam say they're trading with a cryptocurrency that is more environmentally friendly than its counterparts, called Solana.
Steinert's excited about the worldwide community Abigail's created around beluga whale conservation. She says Abigail's story is a great example of how individuals can contribute to conservation efforts using what they know.
"People ask us all the time, 'What can I do, what can we do to help belugas?' And to me, my answer is, use your skill. Use your expertise," she said.
Abigail has only been at the NFT game for a few weeks. If those weeks are any indication of her future, there's a lot of momentum for her — and the belugas — ahead.
KDLL is our partner station in Kenai. KTOO collaborates with partners across the state to cover important news and to share stories with our audiences.
Get notifications about news related to the topics you care about. You can unsubscribe anytime.
Update the categories you'd like to receive notifications about.
November 2, 2021
NOAA Fisheries says the whale appears to have swum thousands of miles south from Arctic waters.
April 1, 2021
A federal permit allowing Hilcorp to drill in Cook Inlet does not account for the harm vessel noise could pose to endangered belugas there, according to a decision yesterday from a District Court judge.
March 3, 2021
As they swim through the Kenai River, fish shed tiny bits of environmental DNA — in skin cells, feces, even mucous. Researchers are collecting this eDNA from the river to understand which species of fish are there.
Facebook
Twitter
YouTube
Instagram

Copyright © 2021 KTOO Public Media
Wafini NFT Marketplace Set To Launch On Cardano, Kicks Off Seed Token Sale To Early Adopters – GlobeNewswire
October 04, 2022 07:22 ET | Source: Wafini Wafini
VALLETTA, MALTA
Valletta, Malta, Oct. 04, 2022 (GLOBE NEWSWIRE) — Wafini, a Cardano NFT marketplace on a mission to facilitate a "DAO Powered NFT Marketplace on Cardano" has kicked off the initial seed round for early adopters.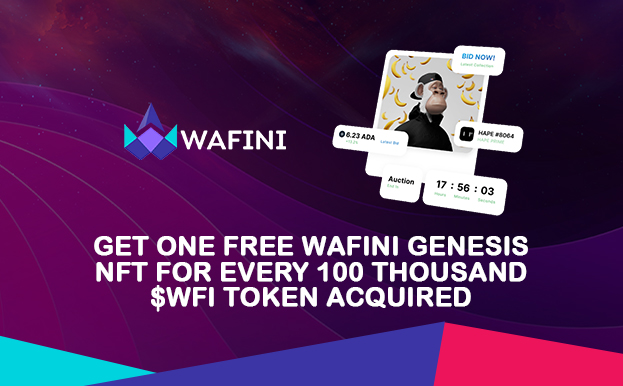 As DeFi, GameFi and NFT projects are now leaning towards being run as a DAO, which in recent times have risen to become the perfect governance structure for Web3 projects, Wafini has announced that the $WFI token holders will have the benefits of governance DAO structures on Wafini and will be utilized in an easy to use interface.
The Wafini marketplace is set to launch within the fourth quarter of 2022.
This will come after the Wafini's test-net that will be made available only to $WFI Token and Wafini Genesis NFT policy ID holders.
Wafini Seed Sale
Wafini team announced today that the Wafini utility tokens are now available to early adopters. 
Early adopters can join the $WFI Token Seed Sale here: https://sale.wafini.app/
To become a member of Wafini DAO, each participant has to acquire and stake $WFI Tokens and Wafini Genesis Passport NFTs
How To Join The $WFI Seed Sale 
You can join the Wafini seed sale in 3 simple steps.
1: Buy ADA from an Exchange like Binance, Kraken, Coinbase and transfer to your ADA Cardano Compatible wallet like Nami Wallet, Eternl or Flint wallet.
2: Visit the Wafini token sale page and input the amount of ADA you want to join with and continue to sign the transaction to confirm your purchase.
3: Your purchased $WFI Tokens will be sent your wallet as soon as the transaction is conformed on the blockchain.
Here's a detailed and pictorial guide on how to join the Wafini seed sale.
Wafini Seed Sale Details 
1 ADA = 50 $WFI Tokens
1 $WFI = 0.025 ADA
Duration = 30 Days
Seed  Sale Allocation: 15,000,000 $WFI Tokens
Minimum buy: 500 ADA
For further details on the Wafini Token Sale visit the documentation page.
About Wafini
Wafini is a Web 3.0 community driven decentralized NFT Marketplace for Non-Fungible Tokens & NFT collectibles where users will be able to mint, list, sell and swap their Non fungible tokens utilizing the Cardano Blockchain.
Buy $WFI Token: https://sale.wafini.app
Litepaper: https://docs.wafini.app/litepaper
Website :  https://wafini.app/
Pitch Deck: Seed Deck
Twitter : https://twitter.com/wafini_app
Telegram Group : https://t.me/wafini
Media Contact:
Name: Vincent Kowalski
vk (at) wafini.app
Website :  https://wafini.app/
4 Steps to Take Before Buying Your First NFT – The Motley Fool
If you're on a Galaxy Fold, consider unfolding your phone or viewing it in full screen to best optimize your experience.
Credit Cards
Banks
Brokers
Crypto
Mortgages
Insurances
Loans
Small Business
Knowledge
by Emma Newbery | Published on March 26, 2022
Image source: Getty Images
Read this before dipping your toes into the NFT waters.
The Ascent's best crypto apps for 2022 (Bonuses, $0 commissions, and more)
At the start of 2021, most people hadn't heard of the word non-fungible token (NFT) and fewer still had any idea of what it meant. By the end of the year, Collins Dictionary had declared NFT its word of the year, and the market was worth an estimated $40 billion.
If you're considering buying your first NFT, there's a lot to think about. Here are four important steps to take first.
NFTs are essentially digital certificates of ownership, and those certificates can apply to a broad range of things. These include art, music, videos, sports collectibles, gaming items, and much more. You need to be clear on what type of NFT you'll buy, and why you're buying it.
Discover: Best places to buy bitcoin
More: Check out our updated list of best crypto apps including one offer with a $100 crypto bonus
If you're buying an NFT because everybody's talking about them, you may need to dig a little deeper. Otherwise it's a bit like buying a book because you want to own a book, with no care as to who wrote it or what's inside it. Choosing an NFT should depend on your own personal interests, and there are big differences between NFT sectors.
For example, perhaps you're a gamer and want to buy an NFT avatar. You'll have very different needs from a big basketball fan who wants to own an NFT of a favorite sporting moment. And someone who's an art collector considering branching into digital art will also have different requirements again.
Every investment is different, but the fundamentals of investing are often the same. You need to understand what you're buying — whether it's a piece of art, shares in a company, cryptocurrency, or your first NFT.
Our top crypto play isn't a token – Here's why
We've found one company that's positioned itself perfectly as a long-term picks-and-shovels solution for the broader crypto market — Bitcoin, Dogecoin, and all the others. In fact, you've probably used this company's technology in the past few days, even if you've never had an account or even heard of the company before. That's how prevalent it's become.
Sign up today for Stock Advisor and get access to our exclusive report where you can get the full scoop on this company and its upside as a long-term investment. Learn more and get started today with a special new member discount.
We've found one company that's positioned itself perfectly as a long-term picks-and-shovels solution for the broader crypto market — Bitcoin, Dogecoin, and all the others. In fact, you've probably used this company's technology in the past few days, even if you've never had an account or even heard of the company before. That's how prevalent it's become.
Sign up today for Stock Advisor and get access to our exclusive report where you can get the full scoop on this company and its upside as a long-term investment. Learn more and get started today with a special new member discount.
Here are some aspects of NFTs to get to grips with:
You'll probably come across several NFT marketplaces during your research. These are platforms where you can create, buy, sell, and explore NFTs. First and foremost, look for a platform that trades the types of NFTs you want to buy.
Also consider what blockchain network is used — as we mentioned above, Ethereum is the most common but Solana (SOL) and Tezos (XTZ) are also getting in on the NFT game. This is important because it's difficult to buy NFTs using traditional money such as U.S. dollars. Not only do you need to own cryptocurrency, you need to own the right cryptocurrency.
Given the prevalence of NFT fraud, look at what each platform does to ensure the NFT you buy is properly authenticated. You don't want to buy your first NFT only to find it's not legit and the original artist didn't even know it had been made.
Finally, you'll need an NFT wallet. These are crypto wallets that also support NFTs. It's easy to set up a wallet, and there's plenty of useful information online to help if you get stuck. When you first create your account, you'll be given a kind of master password in the form of something called a seed phrase. Keep it somewhere safe, as this will help you access your NFTs if you ever forget your password.
You'll need a wallet that's compatible with the trading platform and blockchain network you chose above. Another key feature to watch out for is security — two factor authentication is a must. If you become a frequent NFT shopper, you might consider a hardware wallet that keeps your NFTs offline. But to start, a software wallet connected to the internet will do the job.
We don't know how the NFT sector will evolve, but these assets could change the way we own items online. However, there are a lot of issues to address, including the environmental cost and copyright infringements. Right now, the best way to approach NFTs is to pursue your existing interests. This will help you judge the quality and value of the items you buy.
Be aware that there's a lot of speculation, hype, and outright scams in the NFT world. There are no guarantees that NFT prices will continue to rise, in fact, many may fall. That's why it's best to only spend money you can afford to lose. If prices fall, it won't prove financially devastating. Most of all, take your time and enjoy learning about a new world of digital ownership.
Emma owns the English-language newspaper The Bogota Post. She began her editorial career at a financial website in the U.K. over 20 years ago and has been contributing to The Ascent since 2019.
We're firm believers in the Golden Rule, which is why editorial opinions are ours alone and have not been previously reviewed, approved, or endorsed by included advertisers. The Ascent does not cover all offers on the market. Editorial content from The Ascent is separate from The Motley Fool editorial content and is created by a different analyst team.
Emma Newbery owns Ethereum, Solana, and Tezos. The Motley Fool owns shares of and recommends Bitcoin.
Featured Offer
100% Commission Free Crypto Trading – 4.5 Star Rating
Related Articles
Best Cryptocurrency Apps and Exchanges
Best Places to Buy Bitcoin
Cryptocurrency reviews: apps, exchanges, and brokers
Best NFT Wallets
Best Cryptocurrency Apps and Exchanges
Best Places to Buy Bitcoin
Cryptocurrency reviews: apps, exchanges, and brokers
Best NFT Wallets
The Ascent is a Motley Fool service that rates and reviews essential products for your everyday money matters.
Copyright © 2018 – 2022 The Ascent. All rights reserved.
How to Determine the Value of an NFT Before Investing – MUO – MakeUseOf
When it comes to NFTs, there are a few ways to figure out if you should invest or not.
Like in the stock, forex, and crypto markets, where there are yardsticks to evaluate the strength of assets, there are metrics you can use to rate the worth and potential value of an NFT before investing in it. Four of these metrics will be explained in this article, along with some benefits and risks you should be aware of before investing in an NFT.
NFTs can be pretty valuable in a couple of ways. Apart from being investment instruments with high-profit potential, they are also used to establish identity, community, and ownership. Some people buy NFTs to support artists, and often, the artists earn more from this since they profit directly from their works without any intermediary.
As a new form of collectible, they are digital upgrades to items like comic books, arts, posters, sports cards, etc., attracting many to buy NFTs not because of any monetary gain they expect from them but because of the other values they have. Sometimes the value could be in the form of exclusive access to events, for gaming purposes, and some just buy it for the novelty of it.
For investors, NFTs have also become a profit-making technology (even though only a few people have become rich by getting involved in NFTs!).
One question you might then ask is how to spot which NFTs have the potential to offer you financial value and the ones to skip for investment purposes.
Below are four factors you should consider when trying to invest in an NFT.
NFT rarity will determine its value. For example, a rare NFT can be a first-of-its-kind piece of digital art by an illustrator; some NFTs made by celebrities also fall into the category of a rare NFT.
An example of an NFT that falls into this category is a project by Mike Winkelmann (aka Beeple) named "Everydays: The First 5000 Days." It's been called an "accumulative piece" because it's made up of 5,000 images, one for each day since May 2007, a total of 13 years. Speaking to Artnet, Metakovan and Twobadour, NFT collectors from Singapore, said they bought the piece because they believe it "is going to be a billion-dollar piece someday."
This covers how an NFT is used in the physical or digital world. In addition to being unique digital assets, certain non-fungible tokens also serve other purposes. Some NFTs, for example, give the owner rights and benefits they otherwise wouldn't have.
The Bored Ape Yacht Club started as a set of NFT images, but now they are tickets to special events and give rewards to their owners, such as the ability to print new NFTs. Many NFTs are also used in games, and they are valued differently based on the functions they play.
The ease with which an NFT can be bought or sold within its network refers to its liquidity. Investors like to invest in liquid NFTs (those with significant trading volumes) since the risk of holding them is reduced. ERC-standard NFTs are instantly tradable across a wide variety of exchanges. The ease of trade adds to the value of such NFTs.
The people and projects behind an NFT can stir up speculation, which can affect the growth and price of the NFT. In addition to who the creator is, the caliber of the people who have owned a certain NFT also affects its value. For example, NFTs owned by people of high social standing or celebrities usually have a high value. This way, we can also say that an NFT's price can be increased by affiliating it with a strong brand or famous figure.
If you choose to invest in NFTs, you should also be aware of some of the benefits of investing in them.
There are endless possibilities in the NFT space as they can be used for almost any project. Moreover, the use cases are also increasing steadily, making the future of NFT promising.
Another reason NFT investment might be a good idea is that they are accessible to everyone; it is not for any selected group of people. It is also easily transferable from one person or place to another. With this, there is an expectation that the technology will continue to grow more popular.
Investing in NFTs offers another way to diversify your portfolio, thereby reducing your overall risk. Even within the NFT space, there are different categories of assets you can invest in. Just make sure you do your research well before settling for any asset.
Ownership of NFT is secured through blockchain technology. This feature also helps to fractionalize ownership of assets. It is easier to divide ownership among several owners while everyone has a secured irreplicable record of their shares. Blockchain makes all records and transactions transparent, making trades more straightforward with less chance of fraudulence.
Since all NFT transactions are recorded in a blockchain, the data cannot be changed or tampered with, making NFTs easier to authenticate than physical assets. If you are buying a piece of art from an online store, you might not be able to know if you are getting the original or a copy. However, when buying an NFT, you can check the blockchain to validate the authenticity of the piece of art before paying for it.
Investing in NFTs is also not without certain risks. These concerns are issues that may hinder the growth of NFTs in the future.
Most NFTs are supported by the Ethereum network, which uses the proof of work (PoW) consensus method (although Ethereum is set to switch to proof of stake). The PoW consensus process takes a lot of energy to record and confirm transactions. To mint a single NFT, heaps of electricity is needed. Concerns have been raised that this could negatively affect the environment.
NFTs are very volatile, and the prices change rapidly, making it a little challenging to predict the future value of an NFT. You can lose your money if the NFT you buy doesn't retain its value.
NFT tech is still in its infant state and isn't very liquid. Many people still don't know what NFTs are, which makes it hard to trade because there aren't as many buyers and sellers. Furthermore, as you'll read below, their association with fraudulent activities harms their image.
NFTs can also be used to carry out fraudulent activities. There is no doubt that the integrity of blockchain is unquestionable. However, there have been cases of the sale of properties as NFTs without the consent of the real owners, violating the essence of using NFTs to sell properties. Several other NFT scams have been done, and this makes it necessary to be careful when trying to buy an NFT.
It cannot be overemphasized that, as much as there are advantages to investing in an NFT, there are also risks to it. You should not just invest in an NFT because it is an NFT. Rather, you should assess it to see if it has the potential to be more valuable in the future.
We understand that the NFT world is rapidly growing, and many things are bound to change. In this light, you should open your mind up to the possibilities while also being careful in the NFT space.
Temitope holds a B.A. and M.A. in linguistics. He started trading forex five years ago, and not long after that, he picked up interest in the crypto and blockchain systems. He has been a writer since 2019, and his experience in the Fintech industry has inspired most of his articles. When Temitope is not writing, he takes his time to learn new things and also loves to visit new places.
Join our newsletter for tech tips, reviews, free ebooks, and exclusive deals!