This is the Most Expensive Photography NFT Ever Sold – PetaPixel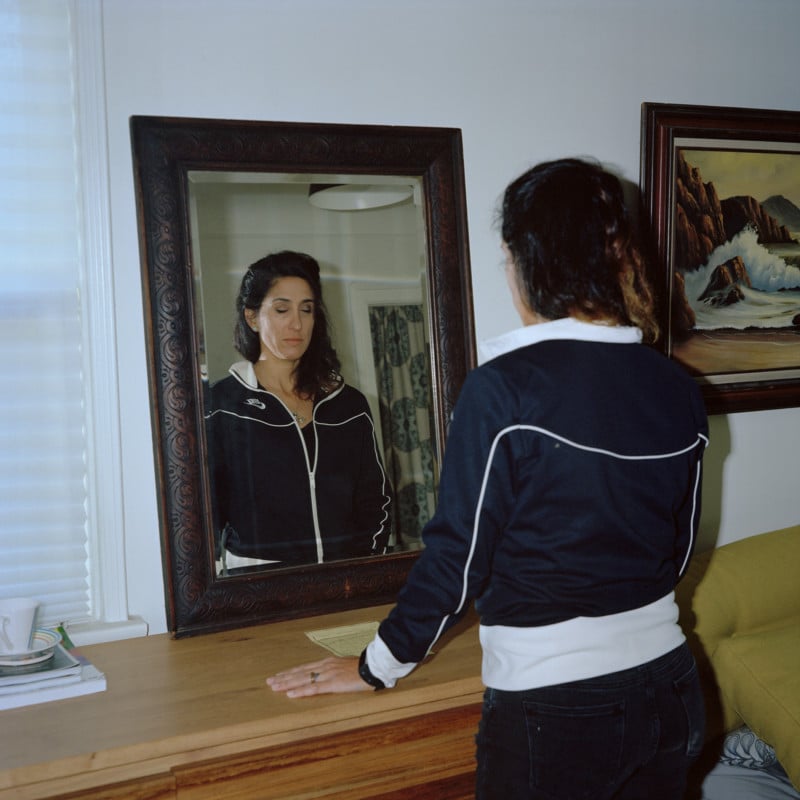 Two photos from a series that was minted as NFTs in 2021 twice set the record for the most expensive photography NFT ever sold. If one of those works sells for its current asking price, it can do so again.
Twin Flames is the name of photographer Justin Aversano's series that features 100 sets of twins captured over the course of 14 months in locations around the world. According to Aversano, the project was in honor of his fraternal twin and aimed to create a body of work focused on "multiple births and the phenomena of twindom" in what he calls an "immersive portrait study." Aversano captured the series in three formats: Polaroid, 120mm, and 4×5.
According to Feature Shoot, Aversano minted the 100 photos as NFTs four years after he took the first photo of the collection. He sold the entire project for 0.55 ETH, or about $1,500 by today's value. Later that year, the NFT for Twin Flames #83. Bahareh & Farzaneh Safarani along with all 100 physical prints were offered through Christie's, becoming the first NFT to be sold in a photography auction there.
The single NFT and 100 physical photos sold for a whopping $1.11 million. At the time, the sale broke records. The series was not done, however. In November, Twin Flames #49. Alyson and Courtney Aliano sold for 871 ETH (about $2,467,127), which Feature Shoot says makes it the fifth most expensive photograph ever sold and the single most expensive photography NFT ever sold.
Feature Shoot reports that funds from that sale went towards creating a treasury to support a large number of photographers working in the NFT space. That funding eventually went on to become RAW DAO, described as an autonomous decentralized organization devoted to photography on the blockchain.
Aversano went on to become the co-founder of Quantum Art, an NFT platform with a focus on photography.
Twin Flames #49. Alyson & Courtney Aliano was not being offered on OpenSea for any value at the time of publication. However, Twin Flames #83. Bahareh & Farzaneh Safarani has transferred ownership multiple times since its sale on Christie's and as a result, experienced a dramatic increase in value.


According to the record on OpenSea, it was originally sold over a year ago, but eight months ago was transferred, which does not necessarily mean sold, to Aversano before being transferred again to his own NFT art collection, Twin Flames, a month later. There it remained for six months before being transferred yet again to a user by the name of CL7 a month ago. CL7 now lists the NFT for 3,500 ETH, or over $9.87 million.
At the time of publication, there were no offers for it at that price. If it were to sell at this asking price, it would easily be the highest-selling photography NFT ever.
Editor's note: The original version of this story incorrectly attributed the highest-selling photography NFT to Twin Flames #83. At the time, the sale did break records, but the most expensive NFT of a photo ever sold falls to Twin Flames #49, which achieved that mark later that year. We apologize for the error.
Header image: Twin Flames #49. Alyson & Courtney Aliano by Justin Aversano, Sotheby's.
Copyright © 2022 PetaPixel
Starbucks details its blockchain-based loyalty platform and NFT community, Starbucks Odyssey – TechCrunch
Starbucks is today officially introducing Starbucks Odyssey, launching later this year — the coffee chain's first foray into building with web3 technology. The new experience combines the company's successful Starbucks Rewards loyalty program with an NFT platform, allowing its customers to both earn and purchase digital assets that unlock exclusive experiences and rewards.
The company had earlier teased its web3 plans to investors, saying it believed this new experience would build on the current Starbucks Rewards model where customers today earn "stars" which can be exchanged for perks, like free drinks. It envisions Starbucks Odyssey as a way for its most loyal customers to earn a broader set of rewards while also building community.
To develop the project, Starbucks brought in Adam Brotman, the architect of its Mobile Order & Pay system and the Starbucks app, to help serve as a special advisor. Now the co-founder of Forum3, a web3 loyalty startup, Brotman's team worked on Starbucks Odyssey alongside the Seattle coffee chain's own marketing, loyalty and technology teams.
While Starbucks had been investigating blockchain technologies for a couple of years, it has only been involved in this particular project for around six months, Starbucks CMO Brady Brewer told TechCrunch. He says the company wanted to invest in this area, but not as a "stunt" side project, as many companies are doing. Rather, it wanted to find a way to use the technology to enhance its business and expand its existing loyalty program.
It opted to make NFTs the passes that allow access to this digital community, but it's intentionally obscuring the nature of the technology underpinning the experience in order to bring in more consumers — including non-technical people — to the web3 platform.
"It happens to be built on blockchain and web3 technologies, but the customer — to be honest — may very well not even know that what they're doing is interacting with blockchain technology. It's just the enabler," Brewer explains.
To engage with the Starbucks Odyssey experience, Starbucks Rewards members will log in to the web app using their existing loyalty program credentials.
Once there, they'll be able to engage with various activities, which Starbucks called "journeys" — like playing interactive games or taking on challenges designed to deepen their knowledge of the Starbucks brand or coffee in general. As they complete these journeys, members can collect early digital collectibles in the form of NFTs (non-fungible tokens). Starbucks Odyssey, however, does away with the tech lingo and calls these NFT collectibles "journey stamps" instead.
Additionally, a set of limited-edition NFTs will be available to purchase in the Starbucks Odyessy web app, which also works on mobile devices. Though hosted on the Polygon blockchain, these NFTs will be bought using a credit or debit card — a crypto wallet is not required. The company believes this will make it easier for consumers to engage with the web3 experience by lowering the barrier to entry. It also won't complicate consumers' transactions with things like "gas fees," preferring to offer a bundled price.
The company is not yet ready to share what its NFTs will cost or how many will be available at launch, saying these are decisions that are still being ironed out.
However, the various "stamps" (NFTs) will include a point value based on their rarity and can be bought or sold among Starbucks Odyessy members in the marketplace, with the ownership secured on the blockchain. The artwork on the NFTs is being co-created by Starbucks and outside artists, and a portion of the proceeds from the sale of the limited-edition collectibles will be donated to support causes chosen by Starbucks employees and customers.
By collecting the stamps, members will gain points that can unlock exclusive benefits.
These perks go beyond those you can earn with a traditional Starbucks Rewards account and its "stars." While today, members can earn things like free coffee, free food or select merchandise, the points earned in Starbucks Odyessy will translate into experiences and other benefits.
Starbucks Hacienda Alsacia. Image Credits: Starbucks(opens in a new window)
On the lower end, that could be a virtual espresso martini-making class or access to unique merchandise and artist collaborations. As you gain more points, you may earn invites to special events hosted at Starbucks Reserve Roasteries, or even earn a trip to the Starbucks Hacienda Alsacia coffee farm in Costa Rica. It's expected the very largest perks will be reserved for those who purchase NFTs, though lesser versions may be offered to those who earn their way up.
For instance, a paid NFT could offer the full travel package and farm tour, while an earned NFT could offer the tour alone with flights and hotels left up to the user. Starbucks hasn't made any formal decisions on this front, however.
But what the company can say is that it wants to deeply integrate the program with its existing loyalty rewards, beyond simply using the same user account credentials for both programs.
Brewer says Starbucks is already imagining how some of the activities that earn NFTs will be connected to real-world Starbucks purchases, for instance.
In Odyssey, users earn NFTs by doing challenges, which might also include a real-world activity like "try three things on the espresso menu." This would require the user to show their barcode at checkout — as they would if earning stars — to have their transaction counted toward the Starbuck Odyssey challenge. The company is still determining what mix of games, challenges and quests it will include at launch.
"But we'll have experiences that do link directly to customers' behavior in our stores," Brewer stresses. Most importantly, the company wants to make gaining NFTs something anyone can do — not just those with money to blow on digital collectibles, as is often the case with current NFT communities, which price out the average user.
"There will be a lot of ways for people to earn [rewards] without having to spend a lot of money," says Brewer. "We want to make this super easy and accessible. There will be plenty of everyday experiences customers can earn like virtual classes or access to limited edition merchandise, for instance. "The range of experiences will be quite vast and very accessible," he adds.
Starbucks says it explored all the different blockchains for the project but landed on the "proof-of-stake" blockchain technology built by Polygon for this effort because it uses less energy than first-generation "proof-of-work" blockchains, which is more in line with its conversation goals.
Image Credits: Starbucks (opens in a new window)
The idea to enter into the world of web3 makes sense for a company known for taking advantage of emerging technologies and making them more approachable and easy for consumers to access. In years past, Starbucks introduced Wi-Fi in its stores to encourage customers to spend more time during visits. It also pushed the idea of mobile wallets long before Apple Pay became ubiquitous. And it made mobile ordering the norm well ahead of the COVID pandemic, when other restaurant chains picked it up.
But one criticism leveraged against many traditional businesses when they enter the web3 market is that they're approaching it as a marketing stunt, not a real endeavor. Starbucks, of course, argues that's not the case here — but only time will tell how serious its interest may be.
"We're bullish on the future of these technologies enabling experiences that were not possible before," Brewer claims. The intention is to be flexible and move with the customers as the web3 market changes, he explains. "It's really important that we're looking at it for the long-term," he continues. "But, given that we're plugging it into our industry-leading, massive scale rewards program — we're committed," he says.
The company says its web3 platform will open its waitlist (waitlist.starbucks.com) on September 12 and will launch later in the year. It will remove the waitlist and open the platform more broadly sometime next year.
Tyler Hobbs' Fidenza NFT Project Gets $1M Pump Over 48 hours – CoinDesk
DOJ Asks Congress for Tools to Limit NFT Money-Laundering Risk – PYMNTS.com

Down at the very bottom of the crypto crime report the Justice Department issued last week was a request that could make it a lot harder to buy and sell NFTs.
Citing examples of criminals using the sale of the popular nonfungible tokens that hold art, video, music and collectibles to launder funds, the Justice Department asked Congress to define some of all NFTs as "value that substitutes for currency" under the Bank Secrecy Act (BSA).
Doing so, it said in "The Role of Law Enforcement in Detecting, Investigating, and Prosecuting Criminal Activity Related to Digital Assets," would "make clear that its key [anti-money-laundering (AML) and countering the financing of terror (CFT)] provisions — including the obligations to have customer identification programs and report suspicious transactions to regulators — apply to NFT platforms, including online auction houses and digital art galleries."
See also: DOJ Seeks to Double Jail Time for Money Transmission Crimes
The impetus, the department said, is the "explosive growth in the demand and corresponding markets for NFTs, perhaps most notably in the area of digital art."
Substantial Risk
This "presents substantial money-laundering risks," it said, citing a February Treasury Department study on money laundering in the broader art market.
"NFTs can be used to conduct self-laundering, a sequence in which criminals purchase an NFT with illicit funds and then resell to a purchaser who pays for it with clean funds unconnected to a prior crime," that report noted.
It also found that in most cases, "digital assets that are unique, rather than interchangeable, and that are used in practice as collectibles rather than as payment or investment instruments … are generally not considered to be virtual assets under [international regulations]."
The "nonfungible" part of NFT means that each is unique and cannot substitute for any other, as opposed to cryptocurrencies like bitcoin which all have the same uses and value.
NFT marketplaces "may take the view that this definition [of a 'value that substitutes for currency'] does not apply to their activities — and that they are thus not subject to the BSA's anti money-laundering and anti-terrorism laws, the department said.
Justice is asking Congress to amend the BSA "to make clear that its key AML/CFT provisions — including the obligations to have customer identification programs and report suspicious transactions to regulators — apply to NFT platforms, including online auction houses and digital art galleries."
Already There
Redefining NFTs as "value that substitutes for currency" would allow the Treasury Department's Financial Crimes Enforcement Unit (FinCEN) to "potentially seek to regulate such activity under its money transmission regime," a trio of lawyers at Skadden, Arps, Slate, Meagher & Flom wrote in an April blog post.
That, according to Jamie Boucher, Eytan Fisch and Javier Urbina, would require NFT marketplaces to register as money services businesses (MSB) with FinCEN.
Some types of NFTs — notably those used to fractionalize tangible assets like physical artworks and real estate, but also other valuable art or collectible tokens — are likely securities, the Securities and Exchange Commission (SEC) has said.
See more: How Did NFTs Become SEC's Newest Crypto Target?
In FinCEN's view, the trio noted, those can be repurposed to fit the definition of "value that substitutes for currency" and thus may already require MSB licenses.

For all PYMNTS crypto coverage, subscribe to the daily Crypto Newsletter.
New PYMNTS Study: How Consumers Use Digital Banks

A PYMNTS survey of 2,124 US consumers shows that while two-thirds of consumers have used FinTechs for some aspect of banking services, just 9.3% call them their primary bank.
Sign up for our daily newsletter.
You have successfully joined our subscriber list.
We're always on the lookout for opportunities to partner with innovators and disruptors.
Learn More
Sign up for our daily newsletter.
You have successfully joined our subscriber list.
We're always on the lookout for opportunities to partner with innovators and disruptors.
Learn More