Top 3 Metaverse Coins With a Unit Price Below $0.01 to Watch in April 2022 – The VR Soldier
There are hundreds of Metaverse coins on the market, and for someone new to the cryptocurrency space, it might be hard to figure out which projects are worth keeping an eye on and which have long-term potential. That's why we decided to compile a list of underrated Metaverse coins with a unit price below $0.01 to watch in April 2022.
Note: The list below is ordered by the current market capitalization of each coin, lowest to highest.
Launched in June 2021, Starlink (STARL) describes itself as an expansive 3D social universe filled with exploration, creation, and discovery. Artistic expression, trading, gaming, and collecting assets will interact in its virtual world with a blockchain-based ecosystem and economy.
Starlink features an upgrade from the physical world we all live in that provides a universe to explore beyond real life's limitations, providing a vision beyond the horizon.
The Starlink Metaverse will be an ever-expanding interactive digital realm based in space. NFT assets of satellites, living modules, custom spacecraft, character modification, virtual real estate, and more will interact in its ecosphere.
Starlink's Metaverse will also adopt the popular P2E (play-to-earn) model, enabling users to generate a passive income stream via its NFT-based economy.
While Starlink's Metaverse is currently in development, users can check out the PIXELNAUT NFT collection on OpenSea. PIXELNAUTs can be purchased and used as the profile picture in Starlink's Metaverse, providing a unique customization feature that enables prospective players to show their support of the project.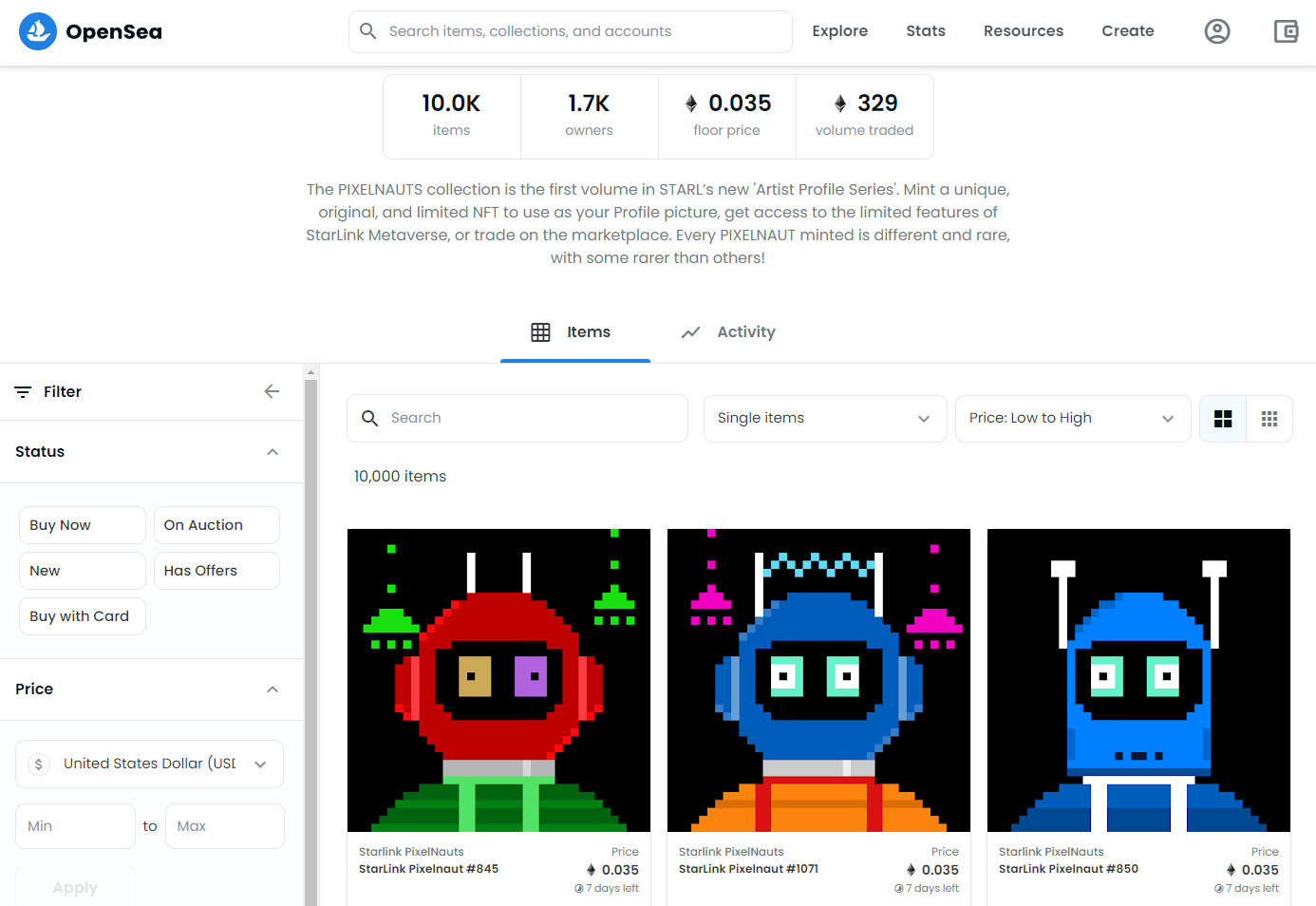 The PIXELNAUT NFT collection features over 10k items with over 1.7k owners at writing. The current floor price of the collection is 0.035ETH, approximately $107 according to today's Ethereum prices.
In addition, Starlink features a native NFT Marketplace currently in beta. While most of the collectibles on it are now sold out, it's worth keeping an eye out for any new drops and spaceships coming to market.
Starlink is a must-watch in April, and May 2022, as their upcoming reveal party is scheduled for May 5th. During that time, there's a strong possibility that the STARL token and the PIXELNAUT NFTs could see significant price growth as the market's attention shifts toward the project.
Let's party.?https://t.co/09ouwJqYge…$STARL #PARTY #grandreveal #gaming #gamefi #dj #livemusic #arena #ETH #BTC #NFT
Update your #NewProfilePic?? pic.twitter.com/1S1dVzEedI
— STARL_Official (@StarLinkETH) April 20, 2022
The primary utility asset on the platform is STARL, an ERC-20 token living on the Ethereum blockchain. STARL is used to purchase NFTs on the platform, modify in-game assets, interact with Starlink's upcoming Metaverse, etc.
You can purchase STARL on MEXC, Uniswap, OKX, Gate.io, LBank, etc.
Have you ever wanted to insure your cryptocurrency portfolio against drastic devaluations and rug pulls? Launched in January 2020, inSure DeFi (SURE) serves as an insurance policy and system for your crypto assets. The project helps traders and investors alike to avoid losing significant amounts of their portfolio's value due to crypto's volatile market.
Users can think of inSure DeFi as an insurance policy for their portfolio. The project provides insurance to DeFi Metaverse platforms for aspiring traders looking to minimize their risk of incurring massive losses.
The platform enables users to purchase a range of coverages, securing a $1000 portfolio for roughly $15 to over $500k worth of assets for approximately $3.1k.


The platform's economy works similar to how insurance companies work, and users pay a premium in exchange for significant protection on their assets.
SURE is the primary utility asset on the platform. It's a multichain token featuring both ERC-20 and BEP-20 versions on the Ethereum and BNB chains. SURE's primary utility is to pay for insurance policies and claims on the platform.
You can purchase SURE on Uniswap, PancakeSwap, QuickSwap, and more.
Launched in August 2021, Radio Caca (RACA) is one of the most underrated Metaverse ecosystems featuring its USM (The United States of Mars) virtual world, a decentralized autonomous organization, and a flagship play-to-earn game Metamon, that enables players to earn significant rewards for participating in its economy.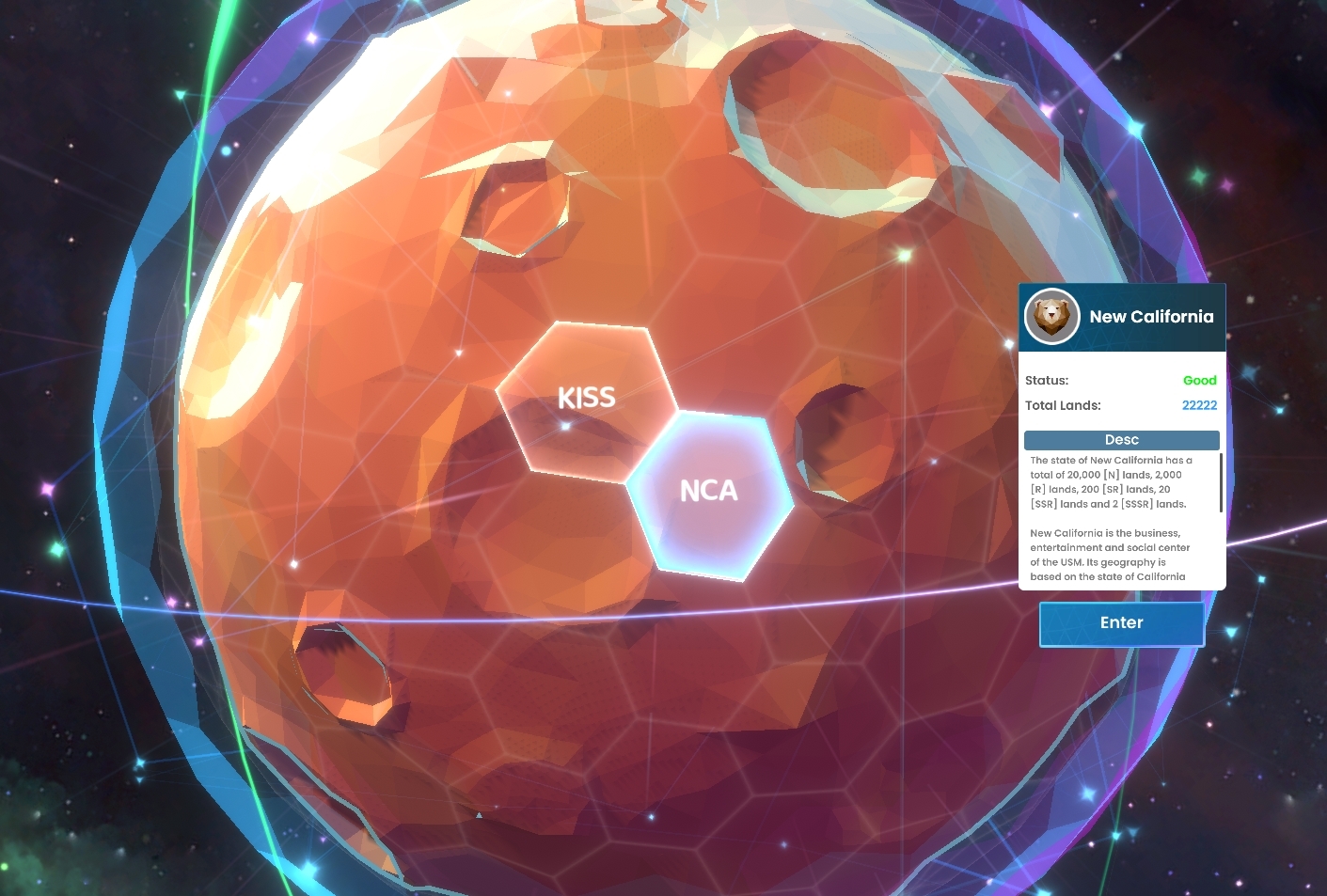 If you haven't yet, we recommend checking out Radio Caca's USM, an in-browser experience similar to Decentraland where users can explore virtual concerts, NFT galleries, and much more.
With a current market cap of $586 million, Radio Caca is the top 8th most-valued Metaverse crypto coin, according to CoinMarketCap. Radio Caca's incredible supportive community and relatively high trading volume of over $69 million suggest a bullish sentiment for its RACA token in the coming months, making it a must-watch in April 2022 and beyond.
In recent news, RACA made headlines when it partnered with world-class icon and hip hop artist French Montana on his upcoming Montega album. In addition, the team allocated nearly $25 million to develop a Metaverse game themed after Montana's album called 2D Montega Metaverse. Moreover, Radio Caca has been performing quite well today, rising by over 8% in the past 24 hours as KuCoin added its token to the platform.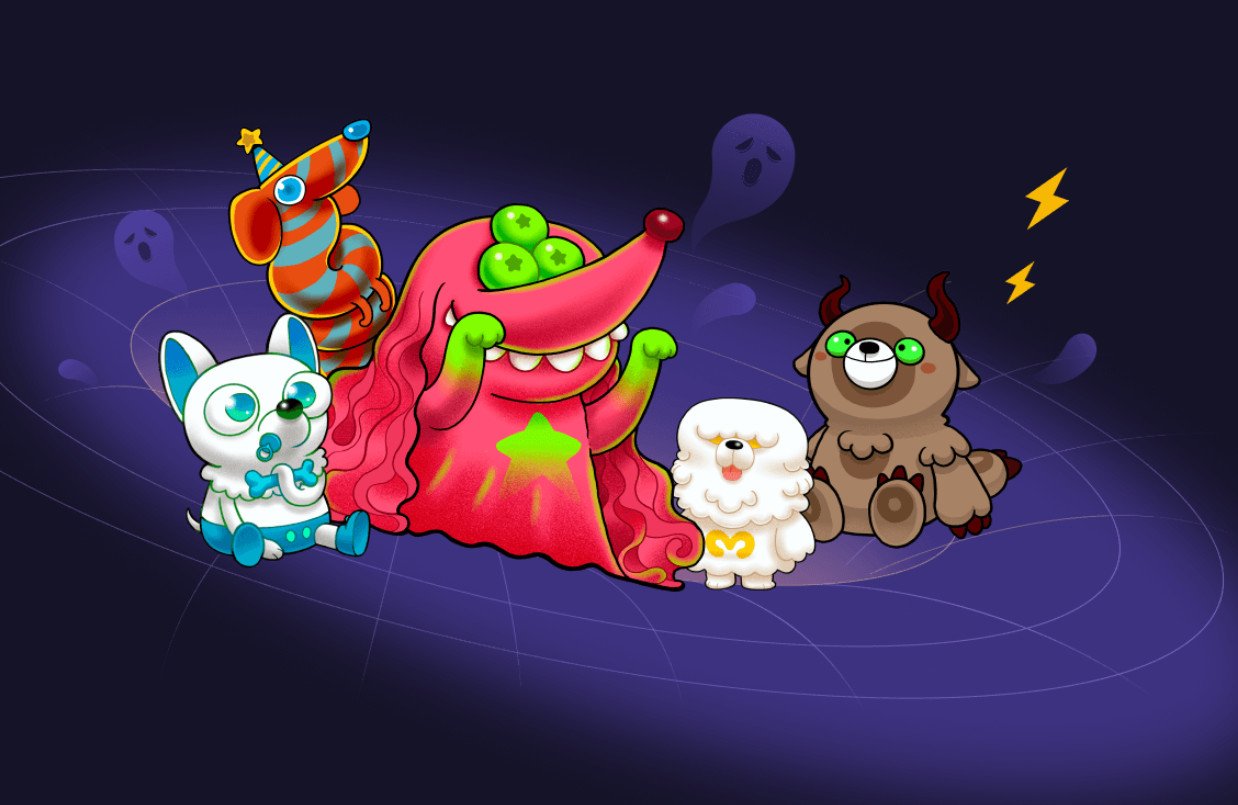 Last but not least, Radio Caca announced upcoming updates to its Metamon game yesterday, introducing new game mechanics and several unique features such as training and earning achievements for players. If you haven't checked out Metamon, we recommend giving it a try as it's one of the most underrated Metaverse crypto games on the market right now, and users can earn significant rewards with minimal time and monetary investment.
The primary utility asset for Radio Caca is RACA, an ERC-20 token featuring both BNB and Ethereum versions. RACA allows holders to interact with its USM Metaverse, play various play-to-earn games like Metamon, buy in-game assets, and provides voting power for DAO governance.
You can purchase RACA on KuCoin, Uniswap, LBank, PancakeSwap, MEXC, OKX, Poloniex, Gate.io, etc.
Disclosure: This is not trading or investment advice. Always do your research before buying any Metaverse crypto coins.
Also Read:
Top 3 Metaverse Crypto Coins With A Market Cap Below $40 Million (April 2022)
Follow us on Twitter @thevrsoldier to stay updated with the latest Metaverse news!
Image Source: Twitter
I love writing, reading, gaming and educating.
© 2022 The VR Soldier
Meta is banking on AI to power the future of its ads business – Yahoo Finance
EU's MiCA crypto rules published in official journal – Forkast News
Top metaverse property investments suffer massive losses: Report – Cointelegraph