PicVerse Announces Launch of First NFT Collection – InuDoge – GlobeNewswire
June 16, 2022 12:37 ET | Source: PicVerse PicVerse
New York, New York, UNITED STATES
NEW YORK, NY, June 16, 2022 (GLOBE NEWSWIRE) — PicVerse, a community of creative individuals seeking to break into the NFT space, has announced the launch of its first NFT collection, InuDoge. Released on Thursday, June 16, 2022, InuDoge is partly a representation of celebrities from real-world and fictional characters.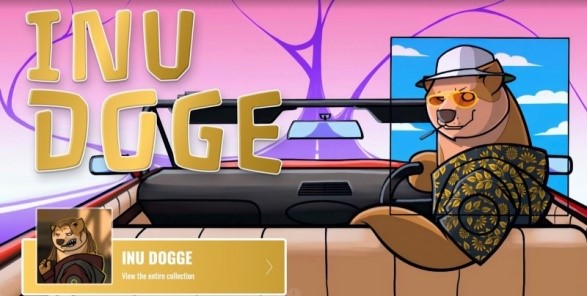 The InuDoge NFT collection is currently available on the OpenSea NFT marketplace.
With a significant difference in appearance, pattern, and hobbies, the InuDoge NFTs will feature 20,000 unique non-fungible tokens from the Original InuDoge collection and 150 Exclusive Inus from the personal collection.
Released after an extensive period of research, design, and eventual launch, the InuDoge collection is super rare, unique, and primarily hand-drawn by in-house artists.
The PicVerse Project
PicVerse, through the InuDoge NFT collection, seeks to create real value for community members. The PicVerse team is currently delving into distinct aspects of the blockchain space, and talks are underway for an entry into the metaverse and GameFi industries.
Built on the principle of value offering, PicVerse will reward NFT holders with exclusive access to some of its highly anticipated products—the NFT marketplace, recurring gifts, bonuses, sales rounds, etc. Additionally, PicVerse is developing a play-to-earn [P2E] game, and characters from the InuDoge NFT collection will serve as heroes in this game, allowing gamers to earn money while playing a competitive and immersive game.
InuDoge NFT holders will also gain access to the upcoming game. In essence, owning any NFTs will automatically qualify holders to play this P2E-based game.
PicVerse will, in the future, launch the sales of other NFT collections; Lords of Cyberpunk, Catsville vs. Doghem, and Beauty Mystery. All of these collections are available for viewing on the PicVerse website.
PicVerse Project Roadmap
The PicVerse team incorporates a realistic yet super ambitious roadmap. In addition to launching more NFT collections after InuDoge, PicVerse invites artists from all over the world to join the team as it strives to leave a positive mark on the NFT industry.
The PicVerse team, as part of its long-term plans, will create and launch an NFT marketplace, a P2E-based game, and would subsequently commence the funding of fintech start-ups. Furthermore, PicVerse will launch OldDoge Token, a large-scale project that will play a massive role in accelerating the PicVerse ecosystem.
OldDoge will include an NFT marketplace, P2E games, tokens, and several charity programs. PicVerse will set aside a percentage of proceeds from the sale of tokens to support nascent fintech start-ups and charity houses. By buying OldDoge tokens, users indirectly contribute to charity organizations and emerging fintech start-ups. 
About PicVerse 
PicVerse is a community of intuitive and super creative individuals keen on making a mark on the NFT market. With a precise, simple, and ambitious roadmap, the PicVerse team seeks to build an open platform where users can seamlessly trade NFTs, earn tokens by playing games, and contribute to charities and emerging fintech start-ups. 
Social Links
Twitter: https://twitter.com/pic_verse 
Telegram Chat: https://t.me/pic_versechat 
Telegram Channel: https://t.me/pic_verse_art 
Instagram: https://www.instagram.com/pic_verse/ 
OpenSea: https://opensea.io/PicVerse 
Media Contact
Brand: PicVerse 
Email: info@picverse.art
Website: https://picverse.art/ 
SOURCE: PicVerse
FASB Excludes NFTs, Some Stablecoins From Crypto Accounting Project – The Wall Street Journal
Michael Saylor can't stop: MicroStrategy now holds 130,000 Bitcoin – Cointelegraph
MicroStrategy bought an additional 301 BTC for $6 million at an average price of $19,851, the company's executive chairman announced on Twitter.
MicroStrategy now owns 0.62% of all the Bitcoin (BTC) that will ever be mined. The company's executive chairman, Michael Saylor, announced that the company bought another 301 BTC for roughly $6 million at an average price of $19,851 per BTC. 
In sum, the company is one of the planet's largest holders of the asset, owning 130,000 BTC. Apparently, Saylor likes round numbers, buying 301 BTC to reach the 130,000 milestone. 
MicroStrategy has purchased an additional 301 bitcoins for ~$6.0 million at an average price of ~$19,851 per #bitcoin. As of 9/19/22 @MicroStrategy holds ~130,000 bitcoins acquired for ~$3.98 billion at an average price of ~$30,639 per bitcoin.https://t.co/5kYW98ij4I
Due to plunging price action, the company's investment is down substantially in U.S. dollar terms. MicroStrategy's entry price is roughly $30,639 per BTC, and the Securities and Exchange Commission filing states that the firm has bought 130,000 BTC at an aggregate purchase price of approximately $3.98 billion.
If MicroStrategy started stacking sats (buying Bitcoin) at today's prices, it would have spent $2.48 billion on 130,000 BTC. Saylor is currently at a paper loss of over a billion dollars.
According to the SEC filing, the company made the purchase with "excess cash." Saylor recently stepped down as CEO of the company to focus on buying more Bitcoin, while Washington, DC has taken aim at the billionaire in a tax evasion lawsuit.
Bitcoin enthusiasts were quick to commend Saylor's buy. Referred to as the "Chad" or "Gigachad," Saylor's conviction and commitment to buying Bitcoin despite the investment being underwater has garnered both a devout following and numerous critics.
Related: Bitcoin better than physical property for regular folks, says Michael Saylor
Other large wallet addresses include that of crypto exchange Bitfinex, which holds 170,000 BTC, and a Binance reserve wallet that holds 125,000 BTC. Binance is the world's largest crypto exchange and has several wallets holding six figures of Bitcoin. Regarding individuals, Saylor has stated that he holds Bitcoin, and FTX CEO Sam Bankman-Fried and Binance CEO Changpeng Zhao are also "hodlers" — a meme that became popular jargon for holding crypto.
NFT Collections Will Be Regulated Like Cryptocurrencies Under EU's MiCA Law, Official Says – CoinDesk