Here's What I Realized About The Bitcoin Price – Seeking Alpha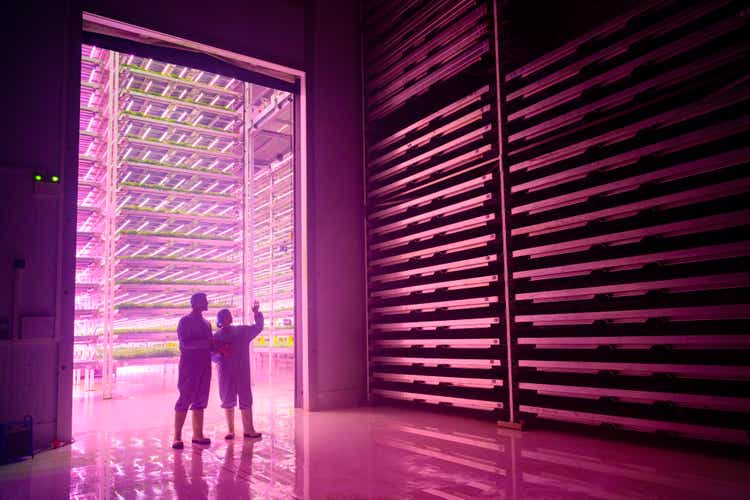 JohnnyGreig/E+ via Getty Images
The realized Bitcoin (BTC-USD) price is a highly watched and useful metric. Looking at the history of Bitcoin, we can see that this level has acted as strong support in bear markets. Evidence suggests that with every bear market, Bitcoin spends less time under this key level.
Ultimately, this is yet another reason why I believe that we are very near the bottom in Bitcoin.
In my latest article on Bitcoin, I talked about key metrics that suggested that Bitcoin was close to a bottom. These included the 200-week moving average, Fibonacci retracement levels and insights provided by the halving cycle. In this article, we'll have a look at yet another important metric; realized price.
Realized price measures the average price at which each Bitcoin in circulation was last bought. In other words, it measures the market's cost basis. This is a very influential level because it establishes the barrier between profitability and losses.
Here's a long-term chart of price and realized price. Generally, realized price moves in line with the price of Bitcoin. As the price goes up, and new people begin to buy Bitcoin, the average purchase price increases. The opposite can also happen, though. When the price of Bitcoin begins to fall, losses are realized and Bitcoin is rebought at lower levels, lowering the realized price. Notice how, as is to be expected, the Bitcoin price is generally above the realized price. However, during deep market selloffs towards the end of bear markets, the price of Bitcoin falls below realized price, though not far below it and not for long.
This is why realized price is such an important metric and, as history will show, it is becoming even more significant.
In Bitcoin's history, we can highlight four previous bear markets that took place in 2011, 2014, 2018 and 2019.
The beginning of the bear market would be when the Bitcoin price tops, and the end of the bear market could be defined as the moment when the Bitcoin price recovers and goes back above the realized price.
If we were to highlight these in the chart mentioned above, we would see some interesting dynamics at play here.
First off, except for 2011, each bear market has been notably shorter than the previous one. Secondly, in every subsequent bear market, the realized price barrier has been "stronger" than in the previous one.
In 2011, price went far below realized price and stayed there for over 100 days. In 2014-15, we also dipped below the realized price, but less so, although in this instance the absolute spent time below was longer, though shorter in proportion to the length of the bear market.
This trend continues in 2019-20. In this instance, the Bitcoin price almost bounces off the realized price line. These findings are summarized in the following table. MVRV is the ratio between market value and realized value. This is the same as comparing price and realized price, as all we are doing is multiplying them by the supply of Bitcoin. When MVRV>1, it means the market price has surpassed realized price.

Bear Market table (Glassnode)
So, as we can see here, not only are bear markets getting shorter, but the time spent under the realized price level has also been proportionally shorter when compared to the length of the overall bear market. In the last correction, the Bitcoin price spent 7 days under the realized price, which accounted for 2.62% of the days we spent in a downtrend.
We have a very clear trend, but what forces are behind this, and will this trend continue? The realized price has become a very watched level, and market participants are expecting a bounce there, so that is where more buyers are accumulating. But there is also something to be said about the fact that Bitcoin is becoming more mainstream, accepted by institutions, and due to the deeper markets and demand, less volatile.
Now, if we take the most recent high, achieved around Nov 10th 2020, we are approaching 200 days in a bear market. If we accept the premise that this bear market should likely be shorter than the previous one, then we have at most two months left of bear.
Furthermore, if we assume that dynamics of price and realized price continues, then Bitcoin's price should barely scrape the realized price this time and perhaps not even touch it. The realized price currently stands at around $23,786.
So, in conclusion, one could hypothesize that the bear market will end within the next 60 or so days and that the potential downside at this point is limited to a little under 20%. This is quite close to the expectations I laid out in my previous analysis of Bitcoin's price, and the ideas that I have been discussing with my subscribers over the last couple of months.
This is just one of many exciting cryptocurrencies you can buy right now!
Join Technically Crypto to stay ahead of the latest news and trends in the crypto space. Learn the ins and outs of blockchain technology and how you can profit from it.
Here's what you will get with your subscription:
– Access to our Crypto Portfolio.
– On-chain analysis of Bitcoin and Ethereum.
– Deep dive reports on Altcoins.
– Technical Analysis of major cryptocurrencies.
– News updates.
Crypto is changing the future, don't just watch it, be a part of it!
This article was written by
The Value Trend is now The Digital Trend.  
We believe the greatest opportunities of the next decade will be in innovative technologies and cryptocurrencies, so this is where we focus our analysis.
We felt a brand update would help our readers better understand our work. 
The world is turning digital and so should your portfolio!
Disclosure: I/we have a beneficial long position in the shares of BTC-USD either through stock ownership, options, or other derivatives. I wrote this article myself, and it expresses my own opinions. I am not receiving compensation for it (other than from Seeking Alpha). I have no business relationship with any company whose stock is mentioned in this article.
Cryptoverse: Bitcoin miners get stuck in a bear pit – Reuters
Sept 27 (Reuters) – Spare a thought for the beleaguered bitcoin miner.
In late 2021, miners were the toast of the town with a surefire path to profit: hook powerful computers up to cheap power, crack fiendishly complex maths puzzles and then sell newly minted coins on the booming market.
A year's a long time in crypto.
Global revenue from bitcoin mining has dropped to $17.2 million a day amid a crypto winter and global energy crisis, down about 72% from last November when miners were racking up $62 million a day, according to data from Blockchain.com.
"Bitcoin miners have continued to watch margins compress – the price of bitcoin has fallen, mining difficulty has risen and energy prices have soared," said Joe Burnett, head analyst at Blockware Solutions.
That's put serious pressure on some players who bought expensive mining machines, or rigs, banking on rising bitcoin prices to recoup their investment.
Bitcoin is trading at around $19,000 and has failed to break above $25,000 since August, let alone regain November's all-time high of $69,000.
At the same time, the process of solving puzzles to mine tokens has become more difficult as more miners have come online. This means they must devour more computing power, further upping operating costs, especially for those without long-term power pricing agreements.
Bitcoin miners' profit for one terahash per second of computing power has fluctuated between $0.119 and $0.070 a day since July, down from $0.45 in November last year and around its lowest levels for two years.
The grim state of affairs could be here to stay, too: Luxor's Hashrate Index, which measures mining revenue potential, has fallen almost 70% so far this year.
2140: THE LAST BITCOIN
It's been painful for miners.
Shares of Marathon Digital (MARA.O), Riot Blockchain (RIOT.O) and Valkyrie Bitcoin Miners ETF (WGMI.O) have sunk more than 60% this year, for example, while crypto-mining data center operator Compute North filed for bankruptcy last week.
Yet mining is ultimately a long-term proposition – the last bitcoin is expected be mined in 2140, more than a century away – and some spy opportunity in the gloom.
"The best time to get in is when market's low, the same mining rigs that went for $10,000 earlier this year you can get that for 50% to 75% off right now," said William Szamosszegi, CEO of Sazmining Inc which is planning to open a renewable-energy powered bitcoin mining operation.
Indeed, many miners are cutting back on buying rigs, forcing makers to cut prices.
For instance, the popular S19J Pro rig sold for $10,100 in January on average, but now sells for $3,200, analysts at Luxor said, also noting prices for bulk orders of some mining machines had fallen by 10% in just the past week.
Chris Kline, co-founder of crypto investment platform Bitcoin IRA, said miners would have to be "hyper-focused" on energy efficiency, both to bring costs down and to avoid any repercussions from climate change-related regulations.
"From managing their balance sheet, processing units and energy costs, miners will look to stay afloat regardless of current market conditions," he added.
Our Standards: The Thomson Reuters Trust Principles.
Crypto companies were undeterred by initial failure to obtain licences to operate in Britain and were submitting new applications, the Financial Conduct Authority said on Thursday.
Reuters, the news and media division of Thomson Reuters, is the world's largest multimedia news provider, reaching billions of people worldwide every day. Reuters provides business, financial, national and international news to professionals via desktop terminals, the world's media organizations, industry events and directly to consumers.
Build the strongest argument relying on authoritative content, attorney-editor expertise, and industry defining technology.
The most comprehensive solution to manage all your complex and ever-expanding tax and compliance needs.
The industry leader for online information for tax, accounting and finance professionals.
Access unmatched financial data, news and content in a highly-customised workflow experience on desktop, web and mobile.
Browse an unrivalled portfolio of real-time and historical market data and insights from worldwide sources and experts.
Screen for heightened risk individual and entities globally to help uncover hidden risks in business relationships and human networks.
All quotes delayed a minimum of 15 minutes. See here for a complete list of exchanges and delays.
© 2022 Reuters. All rights reserved
Crypto market volatile; Terra Classic Lunc leads the laggards, Bitcoin above $19k | Mint – Mint
The American currency scaled past the 111 level against a basket of currencies — making cryptocurrencies against the greenback vulnerable as well. Currently, there is a steep plunge in trading volumes of cryptocurrencies.
Cryptocurrencies are trading volatile tracking feeble global equities after recession fears in major economies like the US and Europe sparked. The US Fed's aggressive approach to tame inflation at the cost of economic growth further dampened the mood. Fed has hiked the rate by another 75 basis points. Wall Street and European stocks slipped sharply last week, while energy prices settled lower and bond yields climbed to multiyear highs. The American currency scaled past the 111 level against a basket of currencies — making cryptocurrencies against the greenback vulnerable as well. Currently, there is a steep plunge in trading volumes of cryptocurrencies.
On CoinMarketCap, at the time of writing, the global crypto market is at $939.57 billion up by 0.28% over the last day. However, total crypto market volume dropped nearly 37% over the last 24 hours and is at $49.82 billion.
Meanwhile, the total volume in DeFi is currently at $3.11 billion — 6.25% of the total crypto market 24-hour volume. The volume of all stablecoins is now $45.65 billion which is 91.63% of the total crypto market 24-hour volume.
Ethereum is the top trending cryptocurrency today followed by PancakeSwap and XRP.
The crypto leader Bitcoin is trading at a little over 19,000 mark at $19,090 up by 0.5%. Its market cap is nearly $366 billion. The digital coin's dominance is currently up by 0.12% over the day at 38.95%.
Meanwhile, the second largest cryptocurrency Ethereum is performing near $1,331 and is up by 0.75%. Its market cap is around $163.3 billion.
Recently, Ethereum launched the most-awaited Merge which led to a transition of proof-of-stake consensus, officially deprecating proof-of-work and reducing energy consumption by ~99.95%.
Data from Coinglass showed that Ethereum has liquidated more than $759 million since September 15.
However, both Bitcoin and Ethereum have dipped by nearly 5% and 9% respectively in the last seven trading sessions.
Among top-performing cryptocurrencies in the last 24 hours are — Reserve Rights climbing by 9.5% followed by Chainlink up 5.5%. Algorand, Chiliz, and eCash surged by 4-5.5%.
On the other hand, Terra Classic Lunc took lead in the laggards list by plunging more than 7%, followed by XDC Network shedding nearly 5%, Stellar and DogeCoin tumbling more than 3% each. Axie Infinity, Helium, Nexo, Celsius, and Synthetix dived between 2-3%.
Terra tokens are under pressure as currently, Terraform Labs CEO Do Kwon is facing multiple jurisdictions. An arrest warrant has been issued by the Seoul Southern District Prosecutors Office against Kwon who is the forefather of TerraUSD algorithmic stablecoin and sister token Luna that wiped out reportedly $60 billion in the cryptocurrency market. Kwon's whereabouts are unknown, although, the co-founder of Terra tokens denied rumours of being on the 'run' from government agencies.
Last week, US Fed in its latest policy statement said, "the Committee is highly attentive to inflation risks."
FOMC further said, in support of these goals, the Committee decided to raise the target range for the federal funds rate to 3 to 3-1/4 percent and anticipates that ongoing increases in the target range will be appropriate. In addition, the Committee will continue reducing its holdings of Treasury securities and agency debt, and agency mortgage-backed securities, as described in the Plans for Reducing the Size of the Federal Reserve's Balance Sheet that was issued in May.
FOMC is committed to returning inflation to its 2% objective.
Download the Mint app and read premium stories
Log in to our website to save your bookmarks. It'll just take a moment.
You are just one step away from creating your watchlist!
Oops! Looks like you have exceeded the limit to bookmark the image. Remove some to bookmark this image.
Your session has expired, please login again.
You are now subscribed to our newsletters. In case you can't find any email from our side, please check the spam folder.
This is a subscriber only feature Subscribe Now to get daily updates on WhatsApp
Bitcoin news – live: Price crash continues as crypto 'stable' coin UST uncouples from dollar – Yahoo News