Finding A More Optimistic Future With Bitcoin – Bitcoin Magazine
Bitcoin is a beacon of hope in a world of uncertainty and despair. By having a monetary constant, people can focus on things that really matter.
This is an opinion editorial by Leon Wankum, one of the first financial economics students to write a thesis about Bitcoin in 2015.
This article is the second in a series in which I aim to explain some of the benefits of utilizing bitcoin as a "tool." The possibilities are endless. I selected three areas where bitcoin has helped me. This article describes how bitcoin has made me more optimistic about the future because it allowed me to efficiently manage my money and build savings. I've developed a lower time preference, meaning I value the future more, which leads me to act more mindfully in the present. All of this has had a positive impact on my mental health.
When money loses value, it negatively affects a society. This process can be observed in countries with high inflation. A tragic historical example is the hyperinflation in the Weimar Republic, the government of Germany from 1918 to 1933. Germany lost World War I and was forced to pay massive reparations. Germany then slid into a financial crisis. In order to stimulate the economy and pay the reparation debts, the German national bank, the Reichsbank, printed vast amounts of money. Their money was devalued so massively that people lost all their savings and the country went into an economic crisis. In 1922, a loaf of bread cost around 160 marks, by the end of 1923, it cost 200,000,000,000. By November 1923, one U.S. dollar was worth 4,210,500,000,000 German marks.
Source: Planet Wissen
As a result of the inflation, Germans went into despair. The population was frustrated, and the resulting inequality led to a rise in populism. Adolf Hitler took advantage of this distress and manipulated the masses into believing that he and his Nazi henchmen could restore Germany to its former glory. His reign in Germany was marked by atrocities and ended in one of the most brutal wars of annihilation in human history. This makes it clear that the devaluation of money leads to the devaluation of society and ultimately to the devaluation of everything — including human lives as the crimes in Germany, the horrors of World War II and the Holocaust have shown.
Monetary inflation leads to societal decay.
That was the case in the Weimar Republic and is still the case today. Financial uncertainty and monetary inflation around the world are making it increasingly difficult to save, build wealth and plan for the future. An epidemic of despair and fear is sweeping the world. One might think that central banks have learned from the past, but that is unfortunately not the case. A tragic example is Lebanon: The Banque du Liban, Lebanon's central bank, has circulated a surplus of Lebanese currency in recent years in response to a deepening economic crisis that has plagued the country since 2019, plunging three-quarters of its population into poverty. As expected, excessive money printing has made matters worse. The inflation rate in 2021 was 154%. The inflation forecast for 2022 is 178%. Even though people have more money at their disposal, everything is getting more expensive in real terms.
With the state running out of money and afraid of a bank run, it restricted citizens' access to the banking system. In response, on September 14, 2022, Sali Hafiz, a young Lebanese activist, robbed a Beirut bank to demand her own savings so she could pay for treatment for her ill sister, which the bank apparently refused to hand over to her. This brings up the question: How can it be that a young woman in the prime of her life is forced to rob a bank? Fear of the future torments the mind.
The cause of the problem is the state monopoly on money. Historically, when governments or central banks fail with their monetary policy, they cling to power by printing money to continue funding their activities. The population then suffers from currency devaluation, price inflation and the resulting uncertainty. Bitcoin works differently. Bitcoin is produced at a rate which was defined when the system was created and which is known to the public. There will never be more than 21,000,000 bitcoin. This certainty carries over to other aspects of life, for example, you can be certain that if you choose to save the fruits of your labor in bitcoin, you will be rewarded in the future because Bitcoin was designed to be disinflationary. With bitcoin, you can provide for your future self, your kids and your loved ones. When you're old and less productive, you have savings with which to live. More importantly, no authority can prevent you from owning, storing or sending bitcoin. The absolute ownership that we have in bitcoin is unprecedented and a cause for great hope.
Bitcoin means hope for a better future (source).
Bitcoin is a monetary constant. Like other constants in the universe, it creates a foundation upon which humanity can interpret information to look forward to the future with confidence. Ideally, money should give a sense of certainty about the future. Bitcoin does that. Yes, the bitcoin price is volatile, but accepting greater uncertainty in the short term is worth gaining greater certainty in the long run. Bitcoin can make us optimistic about the future.
Dr. Saifedean Ammous has written about the impact of soft and hard money on time preference and how that core monetary instinct can spread to other behaviors like choosing what to eat, how to build and the value of art and culture. A society that is using soft money is subconsciously infused with the realization that value melts away and must be spent quickly. It will favor immediacy, sacrificing the future in search for gratification now. For example, from its inception, the euro's operating philosophy was to predictably lose 2% of its purchasing value annually.
Bitcoin offers an alternative as it is inherently disinflationary. Money that cannot be inflated at will rewards good behavior, low time preference, high savings, planning and responsibility. Bitcoin offers a world that promotes saving for your future self and family; a world that will allow you, your family and your community to plan for generations. "Bitcoin promotes human potential through its emotionless enforcement of consensus-based rules that give us predictability, and by extension, reliability."
Most importantly, as so eloquently described by John Vallis in a conversation with Peter McCormack on the "What Bitcoin Did" podcast, Bitcoin causes us to have a more hopeful vision of the future. Vallis explains how many people are more optimistic with "a greater felt sense of freedom because of the qualities of bitcoin and what using it allows for is causing people to: 1. Take more responsibility and 2. See a different future on the horizon than they had seen before."
Later in the episode, Vallis said: 
"How much of anxiety in life comes from a job, a career, money and all that kind of stuff? For most people a lot … When you're put in a state of relative deprivation, you're more susceptible to being corrupted because of your needs, because of your wants, because of all that kind of stuff. But if you're in a lesser state of deprivation, and that can be a financial deprivation, spiritual, psychological, all that kind of stuff. If you're healthy, more broadly speaking, I think you're less susceptible. There is a smaller probability of being corrupted." 
Bitcoin allows us to ascend to a higher version of ourselves, because we feel a level or certainty and are less scared of the future. With a bitcoin standard, these qualities will change society.
Most Bitcoiners I know, including myself, have experienced a transformation since embracing bitcoin. Like most people around me, I used to worry about the future. Today, I feel optimistic about my future self because I know bitcoin will reward me. I can now concentrate on doing what I love, which allows me to bring the greatest value to the outside world. Learning how to utilize bitcoin's potential has allowed me to focus on what I believe is truly important. This has brought a new level of consistency to my life that keeps me grounded and energized.
Dr. Ammous explained how Bitcoin has the potential to change people on his podcast "The Bitcoin Standard" in a conversation with Tarek El Diwany and Allen Farrington in a way that resonated with me because it reflects my personal Bitcoin journey:
The value of bitcoin allowed me to value myself more. For years now, I haven't drank or partied and instead put that money into bitcoin. With that refocus, my time preference has completely changed. Instead of valuing things that bring short-term satisfaction, I value things that will make me happy in the long term. Instead of partying every weekend, I understand the value of using my time during the week. I don't use the weekend to escape my week, I now use it as an extension to accomplish my goals. As Dr. Ammous says in the podcast, Bitcoiners have grand visions of dynasties and building generational wealth.
Many people with fiat mindsets don't think that far out. Interestingly, those with a fiat mindest don't understand Bitcoin. They have a very short time preference and only see the day-to-day price fluctuations and not the long-term gains. Fiat people are running on a treadmill that does not allow them to see past the next weekend because there is no easy way for them to provide for the future. With bitcoin, there is. With bitcoin, time preferences lengthen and people can value the future, which allows us to value the present. Whether you agree or disagree with this, I have met a few Bitcoiners that have gone through major mental changes after holding bitcoin for at least five years.
Bitcoin can be a tool to find optimism, if we are willing to use it accordingly. This self-responsibility is at the core of Bitcoin's philosophy. The first step is to accept that the current economic model we live in is not the best one possible. The next step is to actively use and research bitcoin. This makes you face yourself because you begin to actively engage with the reality you live in and you start to question your own actions. The beginning of the Bitcoin journey might be hard, because of bitcoin's volatility, which contrasts with the perceived safety of the current system and might be unsettling at first. However, as time goes by (and bitcoin increases in price), satisfaction and security sets in. This can have a positive impact on mental health as there is less tension and worry, which can lead to a more optimistic view of the future.
With bitcoin, you have to learn to deal with uncertainty. Something that actually belongs to being human, but is seen as bad by the existing system. We are used to high time preference. Everything needs to happen fast. A system like Bitcoin, which takes time to evolve, creates angst. However, that is a lesson that teaches you how to be more patient, financially responsible, self-determined and independent — virtues that we don't necessarily learn through our existing financial system.
Currency crises and political unrest will sooner or later force everyone to get involved with bitcoin, because it offers a better alternative. I hope this article will inspire you to get involved with bitcoin before you are forced into it.
This is a guest post by Leon Wankum. Opinions expressed are entirely their own and do not necessarily reflect those of BTC Inc. or Bitcoin Magazine.
Compute North — flying high just months ago — now part of crypto bankruptcy wave – Star Tribune
In February, now-bankrupt Compute North looked to be on a fast track to an initial public offering.
The Eden Prairie-based company, co-founded by local tech entrepreneur Dave Perrill, had just raised $385 million to build state-of-the-art data centers for cryptocurrency miners. Bitcoin was booming. And the Super Bowl was rife with crypto ads.
Within months, bitcoin's price collapsed and a parade of crypto companies — including Compute North — went bust. As crypto cratered, Compute North's main lender pulled back and the company's ambitious growth plans unraveled, bankruptcy court records indicate.
The company is now trying to restructure its finances. But that's a tall order. It has already been stripped of two prized crypto data centers and is selling assets.
In a recent interview, Perrill said he's not shocked the crypto market has been rocked. "Markets ebb and flow," he said. But he thought Compute North would be on the buying end of asset fire sales, not the other way around.
"We had built up our company to protect ourselves on the downside. We were always focused on low costs, size and scale and making sure we had a cushion. What pains me is that we are not in a position now to capitalize on the opportunities we thought would eventually come," he said.
To its proponents, cryptocurrency is the backbone of a decentralized financial system, one free of intervention from central banks and commercial banks. To its detractors, it is a medium for financial speculators and — at worst — internet criminals.
Bitcoin is by far the most popular of thousands of cryptocurrencies, and in November 2021 one bitcoin traded at a peak of $64,000. Last week, one bitcoin was going for around $16,000.
The crash has led to hundreds of billions of dollars in investor losses and has included at least nine bankruptcies, culminating in the stunning crash this month of the FTX cryptocurrency exchange — an industry titan that owes creditors billions of dollars and appears to have been epically mismanaged.
Few segments of the industry have been spared. Crypto exchanges like FTX, traders, lenders and service providers like Compute North have all plunged into insolvency or are teetering on it.
"The bigger question now is, will the [crypto] industry survive?" said Vivian Fang, an accounting professor at the University of Minnesota's Carlson School of Management. She thinks it will; "crypto winters" have occurred before.
"I'm cautiously optimistic about its future," Fang said. But for now, there is wreckage strewn across the crypto landscape.
Compute North's quick rise
Compute North is one of the largest U.S. operators of data centers that house computers specially designed for crypto mining.
So is Core Scientific, which operates a large North Dakota crypto data center. That company, based in Austin, Texas, warned of a bankruptcy filing last month, saying it would miss key debt payments.
Core Scientific shares are trading around 13 cents, down from $12 in mid-November 2021. That's the same month when Core Scientific opened a $100 million data center in Grand Forks, aided by a $269,000 loan from the city.
Compute North mostly hosts computers owned by other companies and individuals. The computers run day and night to solve a math problem — with a payoff in cryptocurrency as the reward.
Crucially, Compute North also arranges power contracts for the electricity-hungry mining machines.
Compute North was founded in 2017 by Perrill and PJ Lee, who respectively own 24 % and 23 % of the company — equity likely to be erased in bankruptcy.
Perrill is the computer guy: He co-founded his first business 30 years ago at age 14, hosting online bulletin boards out of his Waconia home. That company evolved into an internet services provider with 15 employees and about $3 million in revenue by 2006.
Lee is the energy finance guy. His EverStream Energy Capital Management, founded in 2012, focuses on investing in renewable and sustainable energy projects. Before that, Lee was a managing director at Black River Assessment Management, then an arm of Cargill.
Compute North started with two smaller crypto mining sites in South Dakota and Texas, which together drew about 20 megawatts of power. In 2021, it opened a larger crypto mining site — 100 megawatts — in Kearney, Neb.
Then in February, Compute North struck what seemed like a financing coup. It secured $385 million in debt from San Francisco-based Generate Capital to refinance loans on its Kearney facility and fuel its ambitious expansion plans.
At the top of Compute North's list: a 300-megawatt project called Wolf Hollow, about 70 miles west of Dallas, Texas. Wolf Hollow was partially switched on earlier this year.
Compute North is also in a joint venture with renewable energy giant NextEra to develop a 280-megawatt crypto center in west Texas. Part of it came online this summer.
The quick fall
By Sept. 22, when Compute North filed Chapter 11 in a U.S. bankruptcy court in Texas, its 2022 revenue was $96 million — three times 2021's mark. And its workforce had grown to 140, up from 30 in early 2021.
"We were just on the cusp of being the biggest company in the world doing this," Perrill said, referring to the crypto hosting business. Indeed, Compute North earlier this year had expected to join the ranks of publicly traded crypto companies.
The outlook was rosy enough in March for Compute North to pay bonuses of $300,000 to Perrill and $240,300 to Tad Piper, Compute North's former chief financial officer, who exited in June, bankruptcy documents show.
Perrill, who resigned as CEO two weeks before the bankruptcy filing, was paid nearly $600,000 through September 2022. (Perrill remains on the firm's board.)
As Compute North was building in 2022, crypto prices crashed and electricity costs — driven by surging natural gas prices — soared. It was a toxic combination: Power is by the far the largest cost of bitcoin mining.
Then came the hammer that drove Compute North into bankruptcy: Generate Capital pulled back.
In the second quarter, Generate — which had already fronted Compute North $101 million of its $385 million commitment — stopped funding new projects other than Kearney and Wolf Hollow, Compute North said in a bankruptcy filing.
In late July, Generate declared Compute North in technical default, meaning that even though the company was making its loan payments, it had violated a loan covenant. The next month, Generate effectively took over the Kearney and Wolf Hollow projects.
Kearney was Compute North's major source of cash flow. "It was our flagship project," Perrill said.
In a bankruptcy auction, Generate Capital has since purchased Compute North's equity in both projects for $5 million. Generate didn't return calls for comment.
Chapter 11 allows a company to reorganize its finances while protected from creditors, unlike a Chapter 7 bankruptcy liquidation. But Compute North is operating under section 363 of the bankruptcy code – i.e. selling assets to pay creditors.
Uncertain future
It's not clear how much will be left of Compute North to reorganize. The company owed $500 million to its creditors when it filed bankruptcy.
It's on the hook for a $99.8 million secured loan in connection with its NextEra joint venture. And it owes $21 million to its largest unsecured creditor — and major customer — Marathon Digital Holdings, one of the world's largest bitcoin miners.
"The goal has always been to come out of [bankruptcy] restructuring as a reorganized company and continue to grow," Perrill said. But without the Kearney and Wolf Hollow projects, "it will be a challenging path going forward," he acknowledged.
Mike Hughlett covers energy and other topics for the Star Tribune, where he has worked since 2010. Before that he was a reporter at newspapers in Chicago, St. Paul, New Orleans and Duluth.

© 2022 StarTribune. All rights reserved.
Cryptocurrencies Price Prediction: Bitcoin, Ethereum and Cardano – European Wrap 25 November – FXStreet

FXStreet Team
FXStreet
Bitcoin price is in a good place to trigger another bear market rally from a high-time frame perspective. This development, combined with the optimistic outlook seen in on-chain metrics, further strengthens the possibility of a happy ending to 2022.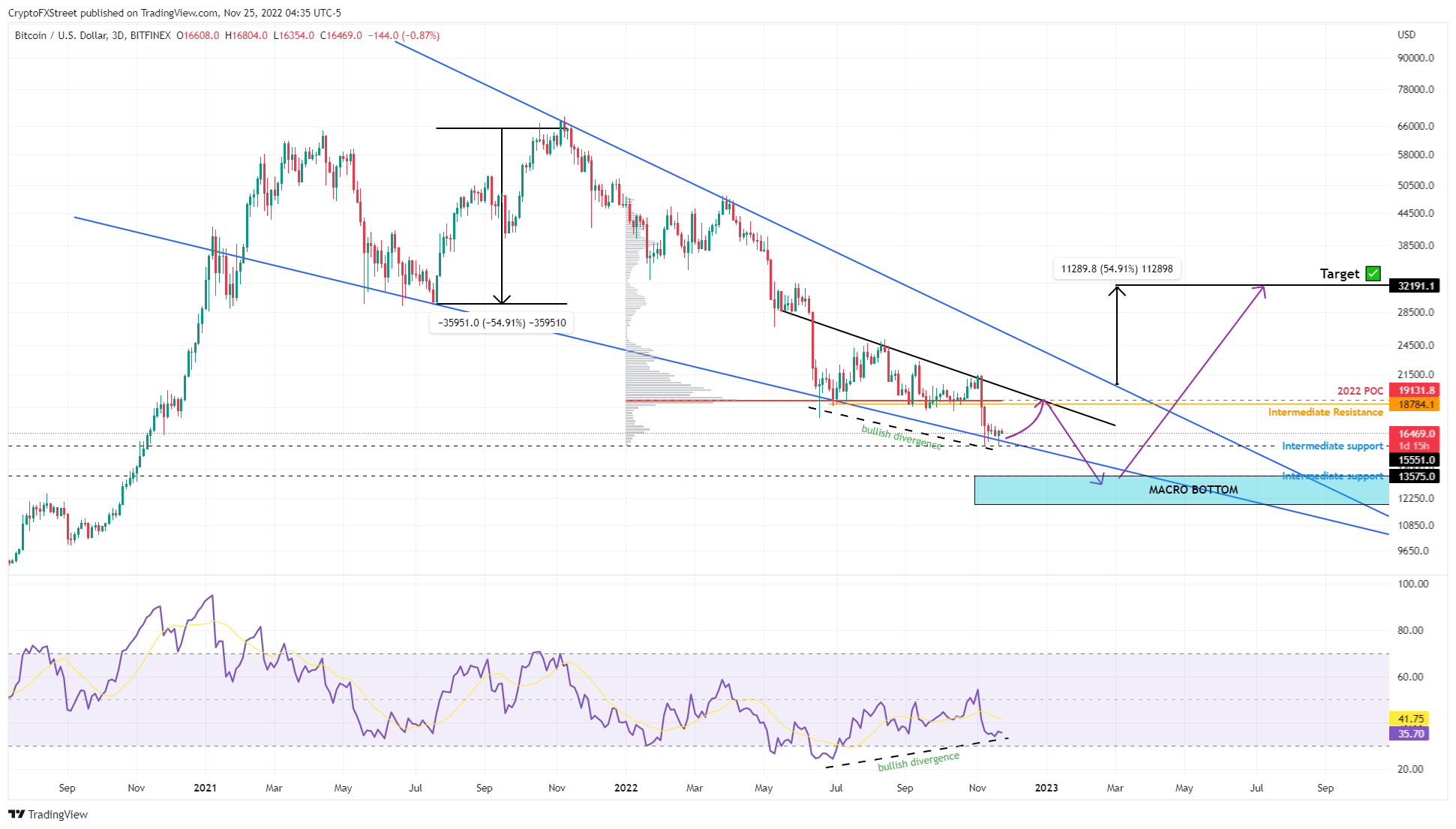 Ethereum price has stopped in its tracks as it approaches a critical hurdle. The drop in momentum can be attributed to Bitcoin's slump in buying pressure. Regardless, a decisive flip of the immediate barrier could trigger a minor run-up for ETH.
Cardano (ADA) is stalling for a second day after the small fade it underwent on Thursday. Although several asset classes look calm and there is no real panic in the markets, it could become clear that cryptocurrencies are simply not on the wish list this year for shoppers on Black Friday and Christmas. Expect with this a small grind lower that could silently rip through the low of this year and see ADA flirt with $0.28 to the downside.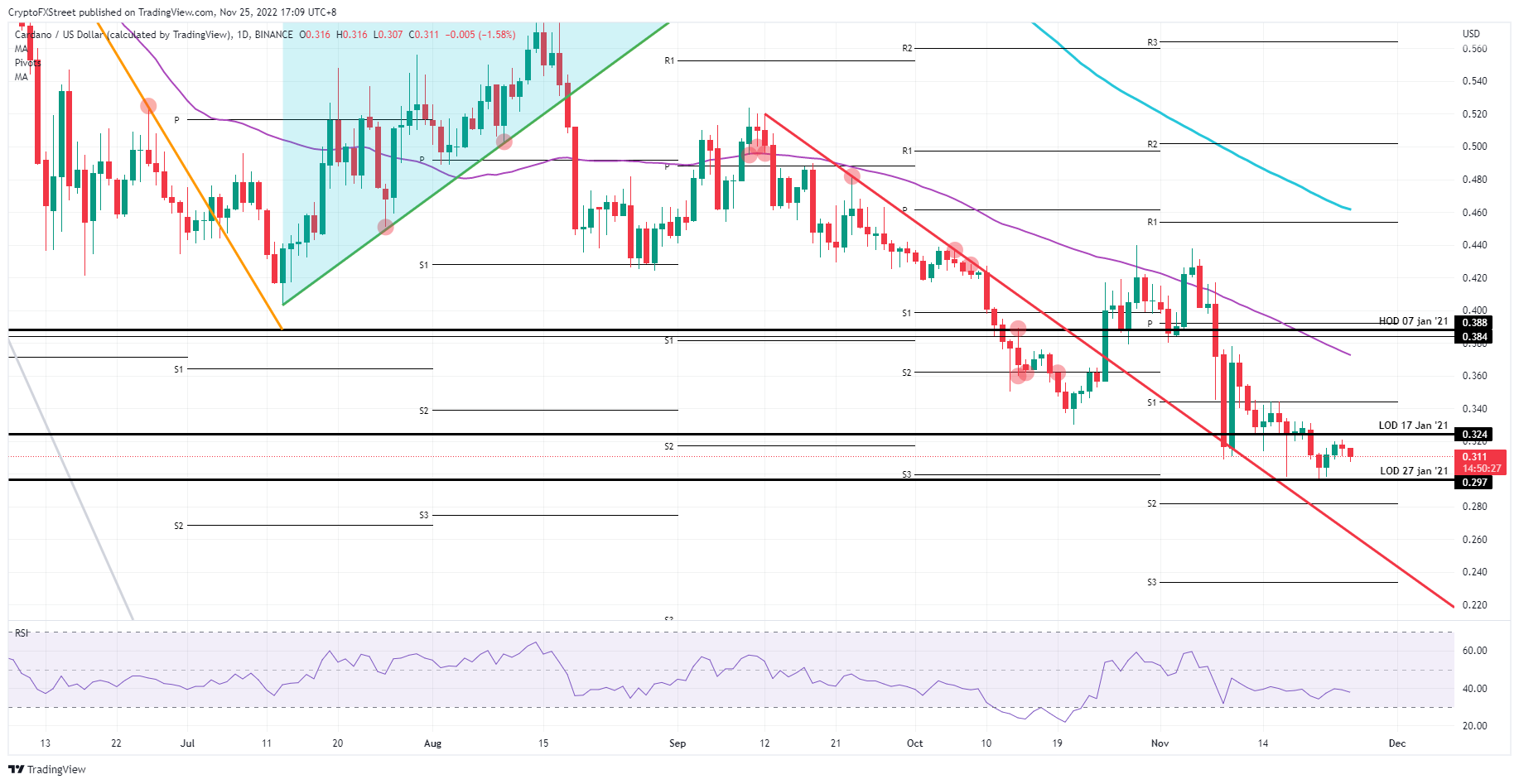 Information on these pages contains forward-looking statements that involve risks and uncertainties. Markets and instruments profiled on this page are for informational purposes only and should not in any way come across as a recommendation to buy or sell in these assets. You should do your own thorough research before making any investment decisions. FXStreet does not in any way guarantee that this information is free from mistakes, errors, or material misstatements. It also does not guarantee that this information is of a timely nature. Investing in Open Markets involves a great deal of risk, including the loss of all or a portion of your investment, as well as emotional distress. All risks, losses and costs associated with investing, including total loss of principal, are your responsibility. The views and opinions expressed in this article are those of the authors and do not necessarily reflect the official policy or position of FXStreet nor its advertisers. The author will not be held responsible for information that is found at the end of links posted on this page.
If not otherwise explicitly mentioned in the body of the article, at the time of writing, the author has no position in any stock mentioned in this article and no business relationship with any company mentioned. The author has not received compensation for writing this article, other than from FXStreet.
FXStreet and the author do not provide personalized recommendations. The author makes no representations as to the accuracy, completeness, or suitability of this information. FXStreet and the author will not be liable for any errors, omissions or any losses, injuries or damages arising from this information and its display or use. Errors and omissions excepted.
The author and FXStreet are not registered investment advisors and nothing in this article is intended to be investment advice.
Bitcoin price is in a good place to trigger another bear market rally from a high-time frame perspective. This development, combined with the optimistic outlook seen in on-chain metrics, further strengthens the possibility of a happy ending to 2022.
Uniswap price has been following the broader market bullish cues over the last few days sustaining its rise from 48 hours ago. Although the sentiment seems to have shifted slightly, UNI holders can still book profits if the Decentralized Finance (DeFi) token climbs to this level.
Cosmos price is producing a countertrend rally after suffering a steep decline throughout the month. If market conditions persist, ATOM could wipe out newly established bullish positions. Key levels have been defined to gauge ATOM's next potential move.
Cardano price has suffered a vicious downtrend move throughout November. Ss price consolidates, the technicals suggest a bounce occurs while on-chain metrics hint that investors are considering securing profits sooner than later.
BTC is in a good place to trigger another bear market rally from a high-time frame perspective. This development, combined with the optimistic outlook seen in on-chain metrics, further strengthens the possibility of a happy ending to 2022.
Note: All information on this page is subject to change. The use of this website constitutes acceptance of our user agreement. Please read our privacy policy and legal disclaimer.
Trading foreign exchange on margin carries a high level of risk and may not be suitable for all investors. The high degree of leverage can work against you as well as for you. Before deciding to trade foreign exchange you should carefully consider your investment objectives, level of experience and risk appetite. The possibility exists that you could sustain a loss of some or all of your initial investment and therefore you should not invest money that you cannot afford to lose. You should be aware of all the risks associated with foreign exchange trading and seek advice from an independent financial advisor if you have any doubts.
Opinions expressed at FXStreet are those of the individual authors and do not necessarily represent the opinion of FXStreet or its management. FXStreet has not verified the accuracy or basis-in-fact of any claim or statement made by any independent author: errors and omissions may occur. Any opinions, news, research, analyses, prices or other information contained on this website, by FXStreet, its employees, clients or contributors, is provided as general market commentary and does not constitute investment advice. FXStreet will not accept liability for any loss or damage, including without limitation to, any loss of profit, which may arise directly or indirectly from use of or reliance on such information.
Cryptocurrency Price Prediction: Cardano (ADA), Shiba Inu (SHIB), Ripple (XRP), Polygon (MATIC) – CoinChapter
Home » News » Cryptocurrency » Cryptocurrency Price Prediction: Cardano (ADA), Shiba Inu (SHIB), Ripple (XRP), Polygon (MATIC)
NEW DELHI (CoinChapter.com) — Cryptocurrency markets recovered slightly on Nov 24, but altcoins like SHIB, ADA, MATIC, and XRP continue to face bearish pressure. Cryptocurrency investors remain nervous about the increasing impact of FTX's collapse on other blockchains and crypto firms.
As a result, the market is unlikely to see an uptrend until the FTX FUD clears. Furthermore, the FTX-Alameda contagion broke the correlation between the US equities market and Bitcoin (BTC) price action.
Meanwhile, Sequoia's VC, Doug Leone, warned of a market downturn worse than the economic downturn of 2000 or 2008. However, the downturn has not robbed the crypto market of its supporters.
Billionaire investor and hedge fund manager Bill Ackman that crypto is here to stay, but the sector would require proper "oversight and regulation."
Moreover, Ackman noted that crypto tokens would benefit society and help grow the global economy. However, the hedge fund manager noted that the crypto sector needs to improve in terms of its ability to detect and inhibit frauds and hacks, protecting investor interests.
Cardano's native token, ADA, rebounded off multi-month descending trendline support on Nov 22. ADA price has tested the trendline support multiple times since May 2022.
However, the Cardano token dropped more than 3.1% between the intraday high ($0.32) and low ($0.31) on Nov 24. If the downtrend continues, the crypto token price might fall to support near $0.305.
Moreover, the failure of immediate support might see Cardano token price flip the multi-month trendline support into resistance, resulting in ADA price dropping to test support near $0.28 before recovering.
Conversely, an uptrend would take ADA price to challenge resistance from its 20-day EMA (red wave) near $0.33. Breaking and consolidating above immediate resistance might help the Cardano token price rise to $0.36 before downside corrections pare gains.
Meanwhile, the relative strength index for the crypto token remains neutral, with a value of 38.38 on the daily chart.
Meme token Shiba Inu price has been moving below its 20-day EMA (red wave) resistance since Nov 13. SHIB price mimicked the wider crypto market recovery, jumping 11.4% between Nov 22's low ($0.00000818) and Nov 23's intraday high ($0.00000911).
However, bears started selling on Nov 24, forcing the SHIB token price to fall to an intraday low of $0.0000089, a drop of nearly 3.2% from the day's high of $0.00000919. If the sell-off continues, the meme crypto price might end up testing support near $0.0000087.
Needling below immediate support might result in holders panic dumping their tokens, forcing the Shiba Inu token to drop to $0.0000078 before recovering.
Conversely, if bulls manage to defend immediate support and push prices up, the Shiba Inu crypto price would face resistance from its 20-day EMA near $0.0000095.
However, a break and hold above immediate resistance might help SHIB price challenge resistance from its 50-day EMA near $0.0000103 before downside corrections pare gains. Meanwhile, SHIB's RSI remains neutral, clocking at 41.34 on the daily chart.
Ripple's XRP token has formed a bullish technical pattern called the ascending triangle. A horizontal trendline that connects swing highs and an ascending trendline connecting swing lows forms an ascending triangle pattern. Volume helps determine if a breakout is strong.
In an ideal world, buyers would enter the market as the trendlines close the gap, pushing prices above horizontal resistance with heavy volumes. Unfortunately, a low-volume breakout on the upside will likely fail, resulting in a pullback.
Per the rules of technical analysis, the price target for a breakout is equal to the triangle's height at its thickest point. Therefore, XRP price might jump more than 26% from current levels to $0.48. But, the cryptocurrency token's declining volumes might have bulls worried about a fakeout.
XRP price swung 2.7% between intraday high ($0.38) and low ($0.37) on Nov 24, halting a three-day-long recovery rally of the token. However, the long bottom wicks on recent daily candles suggest a strong bullish presence near the lower levels.
Hence, the Ripple crypto price might start rising later in the day. However, an uptrend by the Ripple token would first encounter resistance from its 20-day EMA near $0.39. A break and hold above immediate resistance would help XRP price target resistance near $0.41 before retreating.
Conversely, if XRP fails to start an uptrend, the Ripple token might fall to support near $0.37. Breaking below immediate support would invalidate the bullish triangle setup, resulting in a sell-off that could force the cryptocurrency token price to $0.35 before recovering.
Meanwhile, XRP's RSI remains neutral, clocking at 44.7 on the daily chart.
Polygon's native token MATIC flipped multi-month ascending trendline support into resistance on Nov 20. Furthermore, MATIC's recent price action has resulted in its 20-day EMA (red wave) poised to needle below the token's 50-day EMA (purple wave), forming a bearish pattern called the death cross.
Traders often consider the pattern an indicator of negative market sentiment and a sell signal. Hence, MATIC price might fall to test support near $0.83 due to the bearish pressure.
Moreover, if the immediate support fails, the Polygon token price might drop to support near $0.8 before recovering.
MATIC would need to move above the ascending trendline resistance to challenge the resistance confluence of its 20-day EMA (red wave), 50-day EMA (purple wave), and 100-day EMA (blue wave) near $0.89.
A break and hold above the immediate resistance level could help the cryptocurrency price rise to target the resistance from its 200-day EMA (green wave) near $0.93 before downside corrections pare gains.
Meanwhile, the relative strength index for the Polygon token is currently neutral, with a value of 46.07 on the daily charts.
Was Brexit a good idea? 52% Brits don't think so. Read here to know more.
Free Weekly Crypto News without the spam.
Check your inbox or spam folder to confirm your subscription.
A Delhi-based Markets writer, I did my bachelor's in engineering with major in electronics and communications. I first heard of bitcoin while writing an article about blockchain technology a few years back, and have been following it ever since. Bitcoin may well be current big thing happening in the finance industry, and it feels like the right time to join the crypto bandwagon.
Founded in 2015,  Coinchapter.com  has become one of the leading resources for the crypto asset community. Created by a small group of cryptocurrency enthusiasts,  Coinchapter.com  was built to provide new members of the crypto asset community with unbiased listings of cryptocurrency exchanges and retail options that would allow them to buy the crypto assets that they wanted, how they wanted and at the price they wanted.