Bitcoin price news – live: Crypto market surges as Russia and Turkey explore cryptocurrency – Yahoo Finance UK
What the Bank of England's biggest hike in 33 years means for you, if it comes
Bitcoin's price collapse last week reverberated throughout the crypto market, with leading cryptocurrencies continuing suffering heavy losses.
BTC fell more than $10,000 between Friday and Monday, reaching as low as $33,184, according to CoinMarketCap's price index – less than half the record peak it experienced in November.
The world's most valuable cryptocurrency has since staged a steady recovery, reaching above $38,000 on Wednesday amid news that Russian President Vladimir Putin is interested in exploring crypto mining.
The overall market also bounced back slightly, though the price rise slowed down considerably on Thursday.
Ethereum (ETH), Cardano (ADA), Binance Coin (BNB) and Ripple (XRP) have all failed to recover from the crash, though analysts are divided over which way the market is heading from here.
You can follow all the latest news, analysis and expert price predictions in our live blog below.
Bitcoin price takes another tumble
El Salvador responds to IMF plea to ditch bitcoin
Vladimir Putin expresses interest in crypto mining
19:24 , Anthony Cuthbertson
The third Finder's Bitcoin Price Predictions Report is out, and unsurprisingly the panel of crypto experts and academics are slightly less bullish than the two previous editions in July 2021 and October 2021.
Nevertheless, the average forecast for 2022 from the panel is above the record high seen last November, while the predictions for 2025 and 2030 are even higher.
You can read the full story here.
Bitcoin price prediction panel revises forecast
10:34 , Anthony Cuthbertson
It's still way too early to know whether Turkey and Erdoğan are actually serious about making bitcoin a legal form of tender, but industry figures are already getting excited.
Fernando Nikolić, marketing director at blockchain firm Blockstream said that Turkey following El Salvador's lead would be "earth shattering" and could lead to more countries making that step.
Turkey is currently experiencing some of the highest inflation rates in decades, with the Lira crisis currently threatening to destabilise the country's economy. An anti-inflationary digital currency like bitcoin could perhaps be one solution.
If Turkey adopts Bitcoin as legal tender it is not inconsequential.
It will be earth shattering. Dominos across the Middle East and Africa would soon fall.
— Fernando Nikolić 🇷🇺⏰ (@fernikolic) January 26, 2022
10:20 , Anthony Cuthbertson
Turkey has become the latest country to take a closer took at the potential benefits of cryptocurrency.
Turkish president Recep Tayyip Erdoğan has advised the country's ruling Justice and Development Party to examine the use of virtual currencies, according to a report in The Street.
It comes just a week after Erdoğan met with El Salvador President Nayib Bukele, who of course is the first ever world leader to usher in bitcoin as a legal form of tender in the Central American country.
02:48 , Vishwam Sankaran
Bitcoin, ethereum prices drop by 3 per cent
The prices of bitcoin and ethereum have slid down by about 3 per cent with the overall crypto market dropping in value at a similar rate over the last 24 hours.
The leading cryptocurrency is down by nearly 14 per cent compared to its price last week, and is currently valued at about $36,000.
Ethereum is down by about 25 per cent compared to its value a week earlier and is currently priced at $2,400.
Meanwhile, meme coins dogecoin and its spinoff shiba inu are down by over 3 per cent in the last day with the latter dropping in value by over 25 per cent in the last week.
Solana is down by nearly 7 per cent and cardano by a per cent in the last 24 hours.
The chart is still all red with no signs of recovery yet.
Wednesday 26 January 2022 16:56 , Anthony Cuthbertson
Russian President Vladimir Putin has asked government officials to hold talks on the subject of bitcoin and cryptocurrency, as he claims Russia has "certain competitive advantages" when it comes to crypto mining.
In a video conference today, Putin said Russia has a "surplus in electricity and well-trained teams" that could take advantage of a shut down in operations in neighbouring China and Kazakhstan.
The move comes after the country's central bank revealed a proposal to ban cryptocurrency transactions and mining in cryptocurrency.
Wednesday 26 January 2022 15:18 , Anthony Cuthbertson
The president of El Salvador has responded to calls from the International Monetary Fund to drop bitcoin as legal tender in the country.
Nayib Bukele tweeted a Simpsons gif, with bitcoin and IMF logos superimposed, together with the condescending line, "I see you, IMF. That's very nice."
I think it's safe to say Bukele has no plans to abandon the experiment any time soon.
https://t.co/s1F5kwOBEn pic.twitter.com/LD0I2dBHha
— Nayib Bukele 🇸🇻 (@nayibbukele) January 26, 2022
Wednesday 26 January 2022 14:28 , Anthony Cuthbertson
Bitcoin's recovery is showing no signs of slowing down, rising above $38,000 after another price surge this morning.
The cryptocurrency is now up more than 15 per cent since the lows it reached at the start of the week, though analysts have warned that trading data suggests there is still fear in the market ahead of today's meeting of the Federal Open Market Committee (FOMC).
We've heard from Marcus Sotiriou, an analyst at the UK based digital asset broker GlobalBlock, who explains what this might mean for bitcoin and the broader crypto market:
Federal Reserve Chairman Jerome Powell will outline any changes to monetary policy. If he announces an earlier than anticipated end to QE or rate hike, markets may fall much lower in the short term.
However, if Powell confirms no changes to plans announced in December, equity and crypto markets may see some relief as protective positions unwind, and we could see a short squeeze to the upside.
Marcus Sotiriou, GlobalBlock
Tuesday 25 January 2022 20:27 , Anthony Cuthbertson
The International Monetary Fund (IMF) is once again applying pressure on El Salvador over its decision to adopt bitcoin as a legal form of tender.
In a report issued on Tuesday, IMF directors "stressed that there are large risks associated with the use of bitcoin on financial stability, financial integrity, and consumer protection, as well as the associated fiscal contingent liabilities".
It follows a similar warning from the IMF in November, which urged the Central American country to strengthen regulation and supervision over the cryptocurrency.
Tuesday 25 January 2022 12:56 , Anthony Cuthbertson
Elon Musk has said he will eat a Happy Meal on television if McDonald's follows Tesla's lead by accepting dogecoin payments.
The world's richest person made the plea on Twitter, causing an instant surge in the price of the meme-inspired cryptocurrency.
Dogecoin rose from below $0.13 to above $0.14, though remains a long way off the record high it saw last year, when a Musk-fuelled rally briefly pushed it above $0.70.
You can read the full story here.
Elon Musk promises to eat a Happy Meal if McDonalds accepts dogecoin
Tuesday 25 January 2022 03:00 , Vishwam Sankaran
Bitcoin shows signs of recovery
The price of bitcoin has grown by over 2 per cent in the last 24 hours after plummeting to its lowest in six months.
The leading cryptocurrency is still down by over 14 per cent compared to its value a week earlier, and by more than 50 per cent compared to its November high price of $69,000.
Meanwhile, other leading cryptocurrencies, including ethereum, cardano, and solana are down by 2 to 3 per cent in the last day.
Ethereum is currently valued at $2,400 and is still down by over 25 per cent compared to its value a week earlier.
Memecoins dogecoin and shiba inu are also down compared to their respective values a day earlier.
Dogecoin has dropped in value by about 1.5 per cent in the last day while shiba inu is down by over 5 per cent during this period.
The chart is still all red with marginal signs of recovery.
Monday 24 January 2022 20:22 , Anthony Cuthbertson
Bitcoin may have dropped in price by more than 50 per cent since its all-time high in November, but its latest collapse still isn't as big as previous long-term corrections.
There are four other major corrections since 2013 that have seen bitcoin fall further in price, however it's too early to say whether this one is over yet.
Monday 24 January 2022 17:56 , Anthony Cuthbertson
It's always tricky to attribute bitcoin's demise to a single event, however crypto analysts appear to be largely in agreement on what caused the latest sell-off.
While a crackdown in Kazakhstan and fears of a ban in Russia both contributed to the price collapse, the main driver was the plunge in the stock market amid concerns of the US Federal Reserve hiking interest rates this week. We heard from a range of cryptocurrency experts and industry insiders to hear their thoughts on the crash, and where they think the market will go from here.
You can read the full piece here.
What happened on bitcoin's 'Black Friday' crash – and what comes next?
Monday 24 January 2022 14:04 , Anthony Cuthbertson
As is customary now following a severe price dip, McDonald's memes are doing the rounds on social media.
The meme became popular following last year's crash, after a screengrab of a fake tweet from the fast food giant went viral. It stated: "Hey crypto bro's we got you… Apply below."
Among those sharing the meme this time around is El Salvador President Nayib Bukele, who went as far as changing his profile picture on Twitter, and prominent market analyst PlanB. Both have predicted big things for bitcoin in 2022, though not necessarily in this direction.
#NewProfilePic pic.twitter.com/YVDlBoA2Cq
— Nayib Bukele 🇸🇻 (@nayibbukele) January 22, 2022
Next level candle painting pic.twitter.com/j9AheptGOg
— PlanB (@100trillionUSD) January 24, 2022
Monday 24 January 2022 12:48 , Anthony Cuthbertson
We've heard from Marcus Sotiriou, an analyst at the UK-based digital asset broker GlobalBlock, who claims certain market indicators could actually signal a good buying opportunity.
"Bitcoin has reached its lowest level on the daily RSI (Relative Strength Indicator) technical indicator since March 2020, which was the time of the Covid crash," he says.
"Also, the weekly RSI currently sits at 37, which is usually considered as indicating the price is oversold. The fact that every bear market bottom for bitcoin has ranged between 29-35 on the weekly RSI suggests that the risk/reward is advantageous for buying in this area if you believe in the long-term value of this asset class."
Monday 24 January 2022 11:49 , Anthony Cuthbertson
Bitcoin is now down more than 50 per cent from the all-time high it experienced in November, after taking another tumble on Monday morning.
The latest slide marks a dramatic reversal in fortunes for the cryptocurrency, mirroring a similar fall in mid 2021. BTC went on to recover to new record highs, but not before falling by another 10 per cent or so. The next few hours and days will prove crucial to determining whether bitcoin can ride this storm as well as it did last year.
We've reached out to some crypto market experts and should be hearing from them shortly.
Monday 24 January 2022 11:38 , Anthony Cuthbertson
to The Independent's live coverage of the crypto market. Following a dramatic price crash at the end of last week, we'll be bringing you all the latest news, analysis and expert price predictions for bitcoin (BTC), Ethereum (ETH) and other leading cryptocurrencies.
(Reuters) -Sodexo expects its operating profit margin to rise to over 6% in 2025 as more companies outsource their catering and benefits needs and the French food services group boosts its voucher business to meet more demanding employees' expectations. Sodexo, presenting its 2025 strategy, said on Wednesday it would particularly look to expand its Benefits and Rewards (B&R) business as companies seek more ways to retain staff in tight labour markets and greater flexibility as a growing number of employees work remotely. French voucher group Edenred said last month it expected profit growth to accelerate over the next three years as staff shortages and rising inflation pushed employers to spend more on worker benefits.
In the changed post COVID-19 business landscape, the global market for Ultraviolet (UV) Sensors estimated at US$2 Billion in the year 2020, is projected to reach a revised size of US$5. 6 Billion by 2027, growing at a CAGR of 16% over the analysis period 2020-2027.New York, Nov. 02, 2022 (GLOBE NEWSWIRE) — Reportlinker.com announces the release of the report "Global Ultraviolet (UV) Sensors Industry" – https://www.reportlinker.com/p06033191/?utm_source=GNW Government & Public Utilities, one of
In the changed post COVID-19 business landscape, the global market for Ultra-Low-Power Microcontrollers estimated at US$4. 8 Billion in the year 2020, is projected to reach a revised size of US$8.New York, Nov. 02, 2022 (GLOBE NEWSWIRE) — Reportlinker.com announces the release of the report "Global Ultra-Low-Power Microcontrollers Industry" – https://www.reportlinker.com/p06033183/?utm_source=GNW 7 Billion by 2027, growing at aCAGR of 8.7% over the period 2020-2027. Analog, one of the segments
Dr. James Fox explores two dividend stocks to buy with the FTSE 100 languishing near 7,000 and ongoing concerns about a recession. The post 2 juicy dividend stocks to buy at knockdown prices! appeared first on The Motley Fool UK.
Global Dried Blood Spot Collection Cards Market Global Dried Blood Spot Collection Cards Market Dublin, Nov. 01, 2022 (GLOBE NEWSWIRE) — The "Dried Blood Spot Collection Cards Market Size, Share & Trends Analysis Report by Application (New Born Screening, Infectious Disease Testing, Forensics), by Card Type, by Region, and Segment Forecasts, 2022-2030" report has been added to ResearchAndMarkets.com's offering.The global dried blood spot collection cards market size is expected to reach USD 517
Stock markets, meanwhile, are starting the new month focused on tomorrow's interest rates decision by the US Federal Reserve and the Bank of England on Thursday. Last night, the Dow Jones Industrial Average posted its best month since 1976 after a 14% rise. The FTSE 100 closed up 91 points to 7,186, with gains in almost all sectors today.
Social media site's new owner says its most famous former user will have to wait for the ruling of a 'content moderation council' before being allowed back
Donald Trump will be prevented from returning to Twitter until the US midterm elections have ended after Elon Musk said it would take a few weeks to bring back previously banned users.
The United States "strongly suggested" that there would be no controlling interest by China in the Hamburg port terminal, a senior U.S. State Department official said, adding that the final deal was adjusted in the end with no controlling stake for Beijing. Shipping giant Cosco made a bid last year to take a 35% stake in one of logistics firm HHLA's three terminals in Germany's largest port, but the German coalition has been divided over whether to let the deal go ahead. Germany may allow China's Cosco to take a smaller stake than originally planned in a Hamburg port terminal, in what an economy ministry source last week described as an "emergency solution" to approve the deal but mitigate the impact.
The stock market looks bullish today, but there's much more to come for US and UK stocks according to a growing chorus of commentators. The post A sustained rally for UK stocks is likely coming and here's how I'd play it appeared first on The Motley Fool UK.
Chinese fashion retailer Shein is to open its first permanent premises in Tokyo this month, the company said on Tuesday, aiming to bolster its online brand with a physical presence. Opening from Nov. 13 on Cat Street in the Harajuku fashion district, it will be the company's first such physical event space in the world, a Shein spokesperson told Reuters. The space may be modified to host fashion shows and designer events as needed, the spokesperson said.
Warren Buffett is probably the world's most famous investor. I believe that his teachings and principles can help me to build long-term wealth. The post I'm using Warren Buffett's core principles to protect my portfolio in 2023 and beyond appeared first on The Motley Fool UK.
The International Trade Secretary said new technologies to combat climate change will create jobs and deliver energy security.
Communication Workers Union rejects latest pay offer, describing it as 'declaration of war on posties'
NORTHAMPTON, MA / ACCESSWIRE / November 1, 2022 / Acre As regulation around sustainability becomes stricter, Asset Managers are increasingly looking to hire staff with specialised skills, such as climate risk modelling. In a recent episode of …
Global Power Leader Cummins Inc. will begin producing electrolyzers in the United States, underscoring the company's continued dedication to advancing the nation's green hydrogen economy.
The central bank is beginning the first sale of its near £850 billion of UK government bonds built up under its quantitative easing programme.
'I don't believe there is a path forward for anything other than a ban'
Elon Musk's plans to make users pay for verification could help criminals achieve a 'veneer of legitimacy', Mr Lewis said
mobile-cloud-market-size.jpg mobile-cloud-market-size.jpg Dublin, Nov. 01, 2022 (GLOBE NEWSWIRE) — The "Global Mobile Cloud Market Size, Share & Industry Trends Analysis Report By Application Type (Entertainment, Utilities, Education, Healthcare and Others), By Deployment (Public, Private and Hybrid), By Regional Outlook and Forecast, 2022 – 2028" report has been added to ResearchAndMarkets.com's offering.The Global Mobile Cloud Market size is expected to reach $202.4 billion by 2028, rising at
Compute North — flying high just months ago — now part of crypto bankruptcy wave – Star Tribune
In February, now-bankrupt Compute North looked to be on a fast track to an initial public offering.
The Eden Prairie-based company, co-founded by local tech entrepreneur Dave Perrill, had just raised $385 million to build state-of-the-art data centers for cryptocurrency miners. Bitcoin was booming. And the Super Bowl was rife with crypto ads.
Within months, bitcoin's price collapsed and a parade of crypto companies — including Compute North — went bust. As crypto cratered, Compute North's main lender pulled back and the company's ambitious growth plans unraveled, bankruptcy court records indicate.
The company is now trying to restructure its finances. But that's a tall order. It has already been stripped of two prized crypto data centers and is selling assets.
In a recent interview, Perrill said he's not shocked the crypto market has been rocked. "Markets ebb and flow," he said. But he thought Compute North would be on the buying end of asset fire sales, not the other way around.
"We had built up our company to protect ourselves on the downside. We were always focused on low costs, size and scale and making sure we had a cushion. What pains me is that we are not in a position now to capitalize on the opportunities we thought would eventually come," he said.
To its proponents, cryptocurrency is the backbone of a decentralized financial system, one free of intervention from central banks and commercial banks. To its detractors, it is a medium for financial speculators and — at worst — internet criminals.
Bitcoin is by far the most popular of thousands of cryptocurrencies, and in November 2021 one bitcoin traded at a peak of $64,000. Last week, one bitcoin was going for around $16,000.
The crash has led to hundreds of billions of dollars in investor losses and has included at least nine bankruptcies, culminating in the stunning crash this month of the FTX cryptocurrency exchange — an industry titan that owes creditors billions of dollars and appears to have been epically mismanaged.
Few segments of the industry have been spared. Crypto exchanges like FTX, traders, lenders and service providers like Compute North have all plunged into insolvency or are teetering on it.
"The bigger question now is, will the [crypto] industry survive?" said Vivian Fang, an accounting professor at the University of Minnesota's Carlson School of Management. She thinks it will; "crypto winters" have occurred before.
"I'm cautiously optimistic about its future," Fang said. But for now, there is wreckage strewn across the crypto landscape.
Compute North's quick rise
Compute North is one of the largest U.S. operators of data centers that house computers specially designed for crypto mining.
So is Core Scientific, which operates a large North Dakota crypto data center. That company, based in Austin, Texas, warned of a bankruptcy filing last month, saying it would miss key debt payments.
Core Scientific shares are trading around 13 cents, down from $12 in mid-November 2021. That's the same month when Core Scientific opened a $100 million data center in Grand Forks, aided by a $269,000 loan from the city.
Compute North mostly hosts computers owned by other companies and individuals. The computers run day and night to solve a math problem — with a payoff in cryptocurrency as the reward.
Crucially, Compute North also arranges power contracts for the electricity-hungry mining machines.
Compute North was founded in 2017 by Perrill and PJ Lee, who respectively own 24 % and 23 % of the company — equity likely to be erased in bankruptcy.
Perrill is the computer guy: He co-founded his first business 30 years ago at age 14, hosting online bulletin boards out of his Waconia home. That company evolved into an internet services provider with 15 employees and about $3 million in revenue by 2006.
Lee is the energy finance guy. His EverStream Energy Capital Management, founded in 2012, focuses on investing in renewable and sustainable energy projects. Before that, Lee was a managing director at Black River Assessment Management, then an arm of Cargill.
Compute North started with two smaller crypto mining sites in South Dakota and Texas, which together drew about 20 megawatts of power. In 2021, it opened a larger crypto mining site — 100 megawatts — in Kearney, Neb.
Then in February, Compute North struck what seemed like a financing coup. It secured $385 million in debt from San Francisco-based Generate Capital to refinance loans on its Kearney facility and fuel its ambitious expansion plans.
At the top of Compute North's list: a 300-megawatt project called Wolf Hollow, about 70 miles west of Dallas, Texas. Wolf Hollow was partially switched on earlier this year.
Compute North is also in a joint venture with renewable energy giant NextEra to develop a 280-megawatt crypto center in west Texas. Part of it came online this summer.
The quick fall
By Sept. 22, when Compute North filed Chapter 11 in a U.S. bankruptcy court in Texas, its 2022 revenue was $96 million — three times 2021's mark. And its workforce had grown to 140, up from 30 in early 2021.
"We were just on the cusp of being the biggest company in the world doing this," Perrill said, referring to the crypto hosting business. Indeed, Compute North earlier this year had expected to join the ranks of publicly traded crypto companies.
The outlook was rosy enough in March for Compute North to pay bonuses of $300,000 to Perrill and $240,300 to Tad Piper, Compute North's former chief financial officer, who exited in June, bankruptcy documents show.
Perrill, who resigned as CEO two weeks before the bankruptcy filing, was paid nearly $600,000 through September 2022. (Perrill remains on the firm's board.)
As Compute North was building in 2022, crypto prices crashed and electricity costs — driven by surging natural gas prices — soared. It was a toxic combination: Power is by the far the largest cost of bitcoin mining.
Then came the hammer that drove Compute North into bankruptcy: Generate Capital pulled back.
In the second quarter, Generate — which had already fronted Compute North $101 million of its $385 million commitment — stopped funding new projects other than Kearney and Wolf Hollow, Compute North said in a bankruptcy filing.
In late July, Generate declared Compute North in technical default, meaning that even though the company was making its loan payments, it had violated a loan covenant. The next month, Generate effectively took over the Kearney and Wolf Hollow projects.
Kearney was Compute North's major source of cash flow. "It was our flagship project," Perrill said.
In a bankruptcy auction, Generate Capital has since purchased Compute North's equity in both projects for $5 million. Generate didn't return calls for comment.
Chapter 11 allows a company to reorganize its finances while protected from creditors, unlike a Chapter 7 bankruptcy liquidation. But Compute North is operating under section 363 of the bankruptcy code – i.e. selling assets to pay creditors.
Uncertain future
It's not clear how much will be left of Compute North to reorganize. The company owed $500 million to its creditors when it filed bankruptcy.
It's on the hook for a $99.8 million secured loan in connection with its NextEra joint venture. And it owes $21 million to its largest unsecured creditor — and major customer — Marathon Digital Holdings, one of the world's largest bitcoin miners.
"The goal has always been to come out of [bankruptcy] restructuring as a reorganized company and continue to grow," Perrill said. But without the Kearney and Wolf Hollow projects, "it will be a challenging path going forward," he acknowledged.
Mike Hughlett covers energy and other topics for the Star Tribune, where he has worked since 2010. Before that he was a reporter at newspapers in Chicago, St. Paul, New Orleans and Duluth.

© 2022 StarTribune. All rights reserved.
Cryptocurrencies Price Prediction: Bitcoin, Ethereum and Cardano – European Wrap 25 November – FXStreet

FXStreet Team
FXStreet
Bitcoin price is in a good place to trigger another bear market rally from a high-time frame perspective. This development, combined with the optimistic outlook seen in on-chain metrics, further strengthens the possibility of a happy ending to 2022.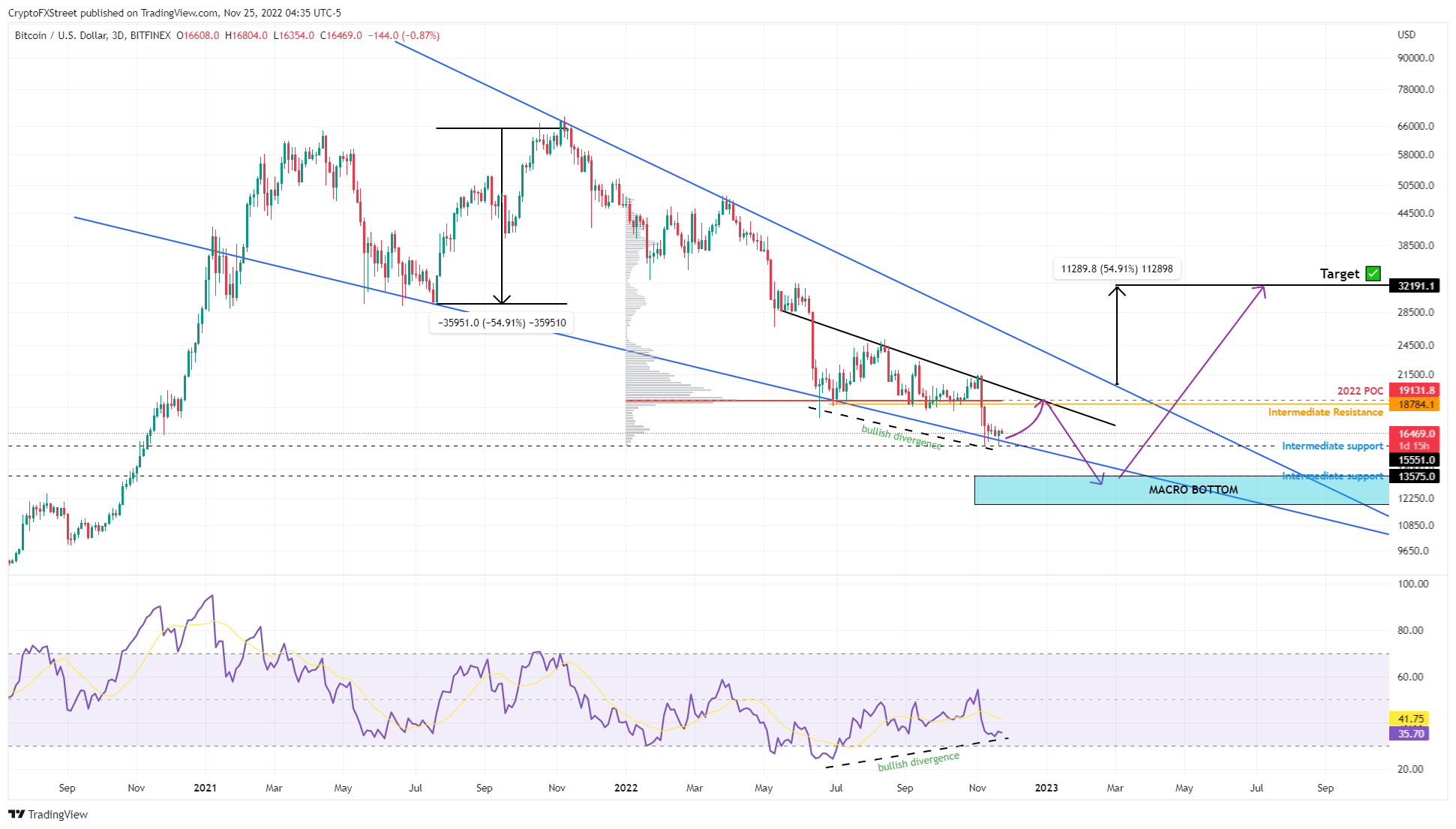 Ethereum price has stopped in its tracks as it approaches a critical hurdle. The drop in momentum can be attributed to Bitcoin's slump in buying pressure. Regardless, a decisive flip of the immediate barrier could trigger a minor run-up for ETH.
Cardano (ADA) is stalling for a second day after the small fade it underwent on Thursday. Although several asset classes look calm and there is no real panic in the markets, it could become clear that cryptocurrencies are simply not on the wish list this year for shoppers on Black Friday and Christmas. Expect with this a small grind lower that could silently rip through the low of this year and see ADA flirt with $0.28 to the downside.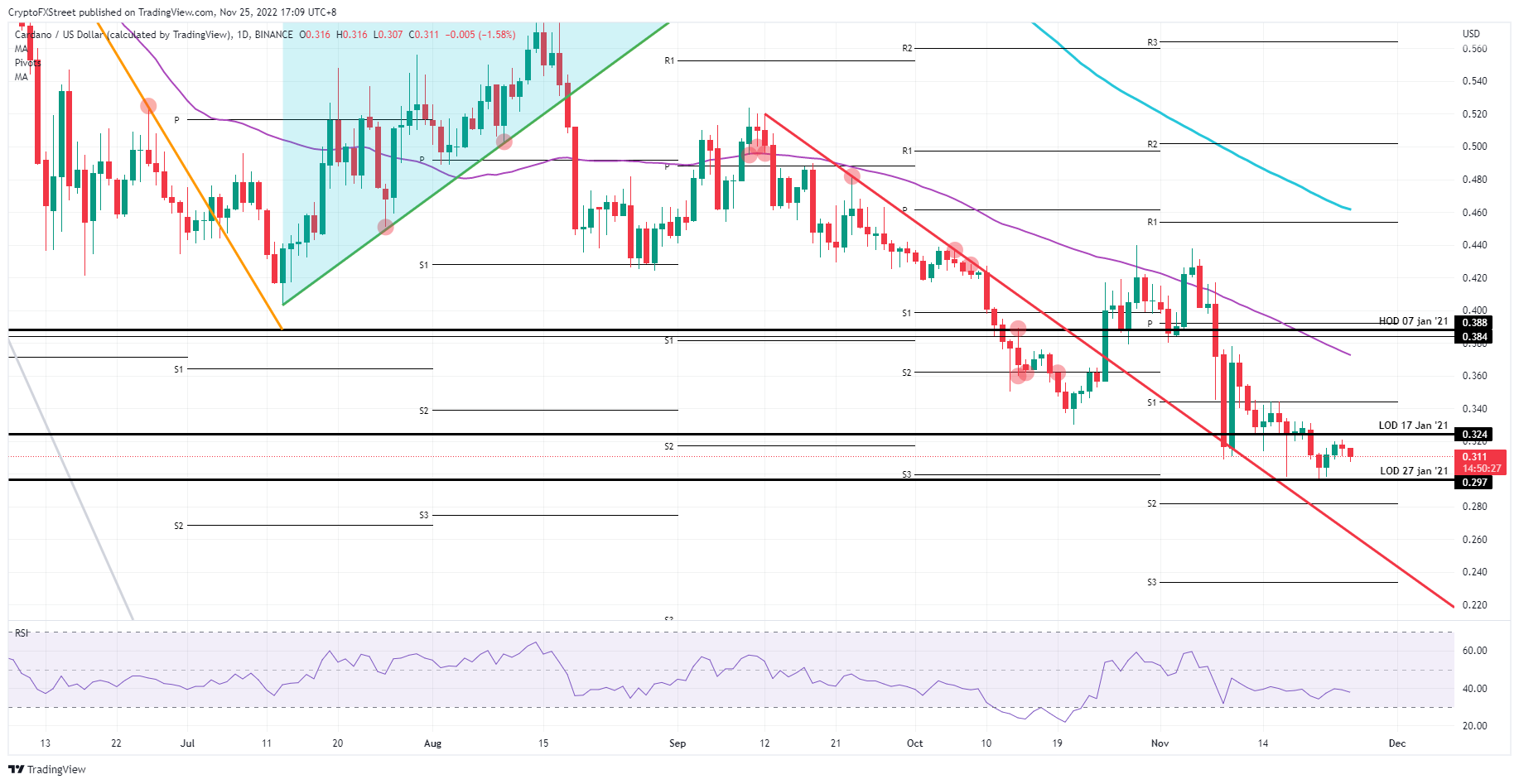 Information on these pages contains forward-looking statements that involve risks and uncertainties. Markets and instruments profiled on this page are for informational purposes only and should not in any way come across as a recommendation to buy or sell in these assets. You should do your own thorough research before making any investment decisions. FXStreet does not in any way guarantee that this information is free from mistakes, errors, or material misstatements. It also does not guarantee that this information is of a timely nature. Investing in Open Markets involves a great deal of risk, including the loss of all or a portion of your investment, as well as emotional distress. All risks, losses and costs associated with investing, including total loss of principal, are your responsibility. The views and opinions expressed in this article are those of the authors and do not necessarily reflect the official policy or position of FXStreet nor its advertisers. The author will not be held responsible for information that is found at the end of links posted on this page.
If not otherwise explicitly mentioned in the body of the article, at the time of writing, the author has no position in any stock mentioned in this article and no business relationship with any company mentioned. The author has not received compensation for writing this article, other than from FXStreet.
FXStreet and the author do not provide personalized recommendations. The author makes no representations as to the accuracy, completeness, or suitability of this information. FXStreet and the author will not be liable for any errors, omissions or any losses, injuries or damages arising from this information and its display or use. Errors and omissions excepted.
The author and FXStreet are not registered investment advisors and nothing in this article is intended to be investment advice.
Bitcoin price is in a good place to trigger another bear market rally from a high-time frame perspective. This development, combined with the optimistic outlook seen in on-chain metrics, further strengthens the possibility of a happy ending to 2022.
Uniswap price has been following the broader market bullish cues over the last few days sustaining its rise from 48 hours ago. Although the sentiment seems to have shifted slightly, UNI holders can still book profits if the Decentralized Finance (DeFi) token climbs to this level.
Cosmos price is producing a countertrend rally after suffering a steep decline throughout the month. If market conditions persist, ATOM could wipe out newly established bullish positions. Key levels have been defined to gauge ATOM's next potential move.
Cardano price has suffered a vicious downtrend move throughout November. Ss price consolidates, the technicals suggest a bounce occurs while on-chain metrics hint that investors are considering securing profits sooner than later.
BTC is in a good place to trigger another bear market rally from a high-time frame perspective. This development, combined with the optimistic outlook seen in on-chain metrics, further strengthens the possibility of a happy ending to 2022.
Note: All information on this page is subject to change. The use of this website constitutes acceptance of our user agreement. Please read our privacy policy and legal disclaimer.
Trading foreign exchange on margin carries a high level of risk and may not be suitable for all investors. The high degree of leverage can work against you as well as for you. Before deciding to trade foreign exchange you should carefully consider your investment objectives, level of experience and risk appetite. The possibility exists that you could sustain a loss of some or all of your initial investment and therefore you should not invest money that you cannot afford to lose. You should be aware of all the risks associated with foreign exchange trading and seek advice from an independent financial advisor if you have any doubts.
Opinions expressed at FXStreet are those of the individual authors and do not necessarily represent the opinion of FXStreet or its management. FXStreet has not verified the accuracy or basis-in-fact of any claim or statement made by any independent author: errors and omissions may occur. Any opinions, news, research, analyses, prices or other information contained on this website, by FXStreet, its employees, clients or contributors, is provided as general market commentary and does not constitute investment advice. FXStreet will not accept liability for any loss or damage, including without limitation to, any loss of profit, which may arise directly or indirectly from use of or reliance on such information.
Cryptocurrency Price Prediction: Cardano (ADA), Shiba Inu (SHIB), Ripple (XRP), Polygon (MATIC) – CoinChapter
Home » News » Cryptocurrency » Cryptocurrency Price Prediction: Cardano (ADA), Shiba Inu (SHIB), Ripple (XRP), Polygon (MATIC)
NEW DELHI (CoinChapter.com) — Cryptocurrency markets recovered slightly on Nov 24, but altcoins like SHIB, ADA, MATIC, and XRP continue to face bearish pressure. Cryptocurrency investors remain nervous about the increasing impact of FTX's collapse on other blockchains and crypto firms.
As a result, the market is unlikely to see an uptrend until the FTX FUD clears. Furthermore, the FTX-Alameda contagion broke the correlation between the US equities market and Bitcoin (BTC) price action.
Meanwhile, Sequoia's VC, Doug Leone, warned of a market downturn worse than the economic downturn of 2000 or 2008. However, the downturn has not robbed the crypto market of its supporters.
Billionaire investor and hedge fund manager Bill Ackman that crypto is here to stay, but the sector would require proper "oversight and regulation."
Moreover, Ackman noted that crypto tokens would benefit society and help grow the global economy. However, the hedge fund manager noted that the crypto sector needs to improve in terms of its ability to detect and inhibit frauds and hacks, protecting investor interests.
Cardano's native token, ADA, rebounded off multi-month descending trendline support on Nov 22. ADA price has tested the trendline support multiple times since May 2022.
However, the Cardano token dropped more than 3.1% between the intraday high ($0.32) and low ($0.31) on Nov 24. If the downtrend continues, the crypto token price might fall to support near $0.305.
Moreover, the failure of immediate support might see Cardano token price flip the multi-month trendline support into resistance, resulting in ADA price dropping to test support near $0.28 before recovering.
Conversely, an uptrend would take ADA price to challenge resistance from its 20-day EMA (red wave) near $0.33. Breaking and consolidating above immediate resistance might help the Cardano token price rise to $0.36 before downside corrections pare gains.
Meanwhile, the relative strength index for the crypto token remains neutral, with a value of 38.38 on the daily chart.
Meme token Shiba Inu price has been moving below its 20-day EMA (red wave) resistance since Nov 13. SHIB price mimicked the wider crypto market recovery, jumping 11.4% between Nov 22's low ($0.00000818) and Nov 23's intraday high ($0.00000911).
However, bears started selling on Nov 24, forcing the SHIB token price to fall to an intraday low of $0.0000089, a drop of nearly 3.2% from the day's high of $0.00000919. If the sell-off continues, the meme crypto price might end up testing support near $0.0000087.
Needling below immediate support might result in holders panic dumping their tokens, forcing the Shiba Inu token to drop to $0.0000078 before recovering.
Conversely, if bulls manage to defend immediate support and push prices up, the Shiba Inu crypto price would face resistance from its 20-day EMA near $0.0000095.
However, a break and hold above immediate resistance might help SHIB price challenge resistance from its 50-day EMA near $0.0000103 before downside corrections pare gains. Meanwhile, SHIB's RSI remains neutral, clocking at 41.34 on the daily chart.
Ripple's XRP token has formed a bullish technical pattern called the ascending triangle. A horizontal trendline that connects swing highs and an ascending trendline connecting swing lows forms an ascending triangle pattern. Volume helps determine if a breakout is strong.
In an ideal world, buyers would enter the market as the trendlines close the gap, pushing prices above horizontal resistance with heavy volumes. Unfortunately, a low-volume breakout on the upside will likely fail, resulting in a pullback.
Per the rules of technical analysis, the price target for a breakout is equal to the triangle's height at its thickest point. Therefore, XRP price might jump more than 26% from current levels to $0.48. But, the cryptocurrency token's declining volumes might have bulls worried about a fakeout.
XRP price swung 2.7% between intraday high ($0.38) and low ($0.37) on Nov 24, halting a three-day-long recovery rally of the token. However, the long bottom wicks on recent daily candles suggest a strong bullish presence near the lower levels.
Hence, the Ripple crypto price might start rising later in the day. However, an uptrend by the Ripple token would first encounter resistance from its 20-day EMA near $0.39. A break and hold above immediate resistance would help XRP price target resistance near $0.41 before retreating.
Conversely, if XRP fails to start an uptrend, the Ripple token might fall to support near $0.37. Breaking below immediate support would invalidate the bullish triangle setup, resulting in a sell-off that could force the cryptocurrency token price to $0.35 before recovering.
Meanwhile, XRP's RSI remains neutral, clocking at 44.7 on the daily chart.
Polygon's native token MATIC flipped multi-month ascending trendline support into resistance on Nov 20. Furthermore, MATIC's recent price action has resulted in its 20-day EMA (red wave) poised to needle below the token's 50-day EMA (purple wave), forming a bearish pattern called the death cross.
Traders often consider the pattern an indicator of negative market sentiment and a sell signal. Hence, MATIC price might fall to test support near $0.83 due to the bearish pressure.
Moreover, if the immediate support fails, the Polygon token price might drop to support near $0.8 before recovering.
MATIC would need to move above the ascending trendline resistance to challenge the resistance confluence of its 20-day EMA (red wave), 50-day EMA (purple wave), and 100-day EMA (blue wave) near $0.89.
A break and hold above the immediate resistance level could help the cryptocurrency price rise to target the resistance from its 200-day EMA (green wave) near $0.93 before downside corrections pare gains.
Meanwhile, the relative strength index for the Polygon token is currently neutral, with a value of 46.07 on the daily charts.
Was Brexit a good idea? 52% Brits don't think so. Read here to know more.
Free Weekly Crypto News without the spam.
Check your inbox or spam folder to confirm your subscription.
A Delhi-based Markets writer, I did my bachelor's in engineering with major in electronics and communications. I first heard of bitcoin while writing an article about blockchain technology a few years back, and have been following it ever since. Bitcoin may well be current big thing happening in the finance industry, and it feels like the right time to join the crypto bandwagon.
Founded in 2015,  Coinchapter.com  has become one of the leading resources for the crypto asset community. Created by a small group of cryptocurrency enthusiasts,  Coinchapter.com  was built to provide new members of the crypto asset community with unbiased listings of cryptocurrency exchanges and retail options that would allow them to buy the crypto assets that they wanted, how they wanted and at the price they wanted.